If your kid's toys are anything like mine, they completely take over my yard, garage, and house! I decided it was time to get organized once and for all, so I went on a hunt to find the best outdoor toy storage solutions. There are so many wonderful and easy ideas out there, and I wanted them compiled in a straightforward list. If you are tired of having toys everywhere you turn, you should consider getting organized too! Check out these helpful ideas for your next project.
In our house, outdoor toys are always creeping their way out of the storage bin and across our yard—where they then set until I trip over them. While my son, Sam, might have a little to do with it, my organizational challenges lead me to believe we simply need a better DIY storage solution for his outdoor toys. I've been researching some of the most organized backyards and found a number of ideas I really like. Some of my favorites include bins that hang off the fence, a parking garage for ride-on toys, really cool pool toy storage, pegboard storage for the garage wall and clever ideas to keep the sandbox organized. Now I just need to decide what's the best solution for our family.
With summer arriving, warmer weather means a lot more time playing outdoors! Sometimes after your kids play for a little bit, you walk out and your yard looks like a tornado just struck! To keep that backyard clutter free, try these awesome backyard toy storage ideas! I have rounded up a variety of clever ways to store those toys, and help make your yard look open and organized! So scroll through the list and see if you find the perfect backyard storage idea that fits you and your specific needs! I love the bins that hang on the fence and the creative parking garage for your children's ride on toys, those are so creative!
12. A Back Yard Toy Storage Solution For Kids
This Back Yard DIY Project is perfect for better organizing your kid's toys and belongings the next time they play outdoors – and is also light enough to easily be stored inside or your garage when not in use.
Rather than leaving their toys sprawled throughout your garden and risking stepping on them, they can hone their organizational skills and find both purpose and enjoyment in organizing their toys on these shelves.
You can add to the final project by using plastic tote boxes, and Sharpie markers to label each bin so they can categorize their toys or games by type!
Check out the Moosha Girl link below for more details.
1. Toy Car Parking Garage
Sara at Mom Endeavours didn't have a place for all your children outside toys, so she developed a fantastic parking garage to store those outdoor toys. It turned out fantastic and was surprisingly easy to make. Try it yourself!
This Covered Kiddie Parking Garage is a great way to keep your kids' toys out of your yard and packed way, but it's also a great way to protect them from the sun, making them last longer. Win-win! All you need to recreate this DIY parking garage are a few simple and inexpensive materials from your local hardware store. It would also be super fun to switch out the beige curtains for curtains in a fun color or pattern that match the backyard. From Mom Endeavors
Create the perfect place for your child to store their ride on toys in their own parking garage [Mom Endeavors]! It is a great way to clean the yard up and protect them from the weather!
No more tripping over tricycles, toy cars, and skateboards scattered around your backyard. Corral your kids' toys and gear in this mini covered kiddie parking garage by Mom Endeavors. The DIY storage unit — built from PVC pipes, a corrugated plastic panel, and cloth — expertly hides your kids' outdoor stuff, but is still easy enough for them to access.
If you don't have a garage, then you may not have a great place to store all of your children's outdoor toys. Well, look no further than this idea of a DIY garage meant for your child's outdoor toys. Now your yard can be a little more organized.
Have Little Tike Cars taken over your lawn? Yeah, mine too. However, Sara from Momendeavors had this amazing idea that I cannot wait to build in our backyard! Using PVC, tin roofing and a few tools she created this super cute toy garage. You could easily do this in just a few hours and create an organized backyard! Check out Sara's tutorial here!
Outdoor toys are an excellent way to encourage exercise, but storing outdoor play equipment poses a unique problem. This family built a covered parking garage for all those toy cars and tricycles that otherwise end up left on the lawn. Visit source…
2. Outside Toy Organizer
Domestic Charm got decided it was time to buckle down about organizing her kid's toys. She used some vinyl labels and some buckets and went crazy! It looks so fresh, clean and organized now. See how she did it.
These Outdoor Toy Bins are a great way to organize toys, and are fantastic for the porch, garage, or backyard. The chalkboard labels are a great design feature, as they look good and can be easily changed. Use stick on chalkboard decals or make the labels yourself using some chalkboard paint. It also makes clean up easy for your kids! From Vegas Mother Runner
This is a pretty affordable and easy option for backyard toy storage! Buy the bins, add a label and you are good to go! The Crafted Sparrow found the perfect bins to keep everything organized.
It's a pretty and lovely outdoor storage ideas what you have to do yourself. First, you have to arrange few buckets and a sturdy rack as well that can resist the weight of toys. You will also need a few stickers to label each bucket. This outdoor storage is very easy to carry due to light weight. Kids can easily take and keep the box in systematically. If kids want to play with the toys, they can take the whole bucket. And after finishing their game, they can replace them in their own position.
Just a few galvanized or plastic buckets and a shelving unit give you everything that you need to keep outdoor toys perfectly organized. You can buy these little buckets for just a dollar or so each and you can use chalkboard paint to label them so that the kids know where everything should go. This is also a great idea for gardening necessities – the ones that can't be hung up. This is a great hack to keep kids' toys organized. Tutorial: domesticcharm
I really like this idea because it keeps toys that should be outside, well, outside. It gives them a place and makes it easy for kids to get to so they are not having to run in and out.
Are your kid's toys cluttering your backyard or garage? Clean up the yard and have a designated space for your kid's small tools by creating a designated bucket for them! Using buckets and cutting out labels with a cutting machine you can make a bucket for any toys your kids have! Balls, bubbles, trucks, cars, etc! Then organize them all on a wire shelf and your good to go! The hardest part will be getting your kids to put the toys back where they go…Sigh.
Outdoor toys are especially susceptible to getting lost, broken, or just terribly disorganized. This mom used a wire rack and several shiny metal buckets (with lids!) As a way to organize chalk, bubbles, jump ropes, sand toys, and everything else for the backyard. Visit source…
3. Organizing Outdoor Toys
Mandi at Life Your Way shares several ideas on how to get more organized with your outdoor toys. It is incredible how much better it feels once everything is finally organized. Get some inspiration here.
Here are six great ideas and tips for DIY Outdoor Storage Strategies that will take your yard from messy to manicured. My personal favorite idea is the hanging milk crates. It's simple, cheap, and easy for kids to use. Getting the backyard toys off the ground and into child-height containers makes thee yard look way tidier. An added bonus? It is much easier to cut the grass! From Life Your Way
Home Your Way hung baskets on her fence to hold all the stuff in their yard.  The post has several other outdoor organizing ideas you should go check out!
4. DIY Rolling Storage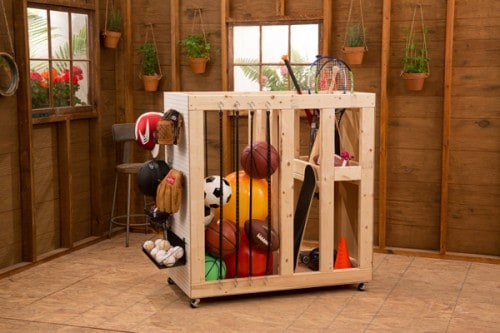 Shanty 2 Chic provides printable plans and a tutorial video so you can create and make your rolling storage cart. This storage unit is so awesome, and you can fit a ton of stuff in it. Everyone needs one of these. Take a look.
Perfect for all you DIY-ers, this Rolling Storage Cart is great for all kinds of outdoor toys and sports equipment. You can also customize it to suit your family's personal storage needs. A large bungee cord compartment is perfect for various balls, the peg board is a great spot to hang baseball gloves and helmets, and the shorter shelf is great for storing various smaller pieces. It's a must have for busy, athletic families. From Shanty 2 Chic
If you are handy, then create your own rolling storage cart. Great for wheeling in and out from the garage to your backyard! Holds lots of toys, and looks neat! Check out a full tutorial at Shanty 2 Chic.
5. Ball Storage
100 Things 2 Do share how they made a marvelous storage unit for holding all of their soccer (or soccer rebounders), volleyball, and basketballs. The rack takes no time at all to put together, and you need minimal materials.
This Bungee Cord Ball Storage is a fantastic way to keep organized if you have a sporty family, and it's seriously cheap and easy to install. This only cost Shelly from 100 Things 2 Do $2, which is mind blowing. From 100 Things 2 Do
If your children love to play soccer and other activities with balls, you might benefit from this fun bungee cord ball storage [100 Things to Do]! Hang this in your garage, on the back of the house or even on your fence.
Store your basketballs, footballs, etc in your garage or shed by making a DIY ball cage from bungee cords. Designed To Dwell created this system in their garage by using 2x4s and bungee cords. Check out their tutorial!
6. DIY Pegboard Organizer
The Creativity Exchange explain how they added a nice pegboard to give the garage an organized look for storing outdoor toys. Everything is orderly and in its place. Check it out.
This is an amazingly versatile storage system. You can decorate your pegboards with whatever colors you'd like, and organize your outdoor toys to suit your needs! From The Creativity Exchange
If you have little ones and a lot of outdoor toys to try and organize, as you can see, this pegboard wall is a great way to keep everything contained within a small area. 
Pegboard remains a storage classic for a reason—it's cheap, easy to install, and can be painted to match any decor. In this garage, it's dressed up with stripes and outfitted with hooks and baskets to store outdoor toys and sports gear. There's even a spot to hang a big roll of drawing paper for outdoor art sessions.
Peg boards like you see on the wall here have hundreds of holes, making storage a breeze. If you can hang it, you can fit it on this board. Hooks can go into any of those holes, so it's easy to move things around to accommodate things of different sizes. Use it to hang things like hats or clothes, and also smaller containers of toys. Note that this won't be able to hold up heavy items, so it's not the place to put blocks, but it can definitely hold smaller things like craft supplies.
7. DIY Storage Bench
The Handyman's Daughter share instructions on how to make a nice sized storage bench for all your outdoor toys and other items. It looks fantastic, and you can fit a lot of things there. See how they made it.
If you are good with a hammer and nails, try making this storage bench idea [The Handyman's Daughter]. The seat lifts up and you can toss anything you want inside, and you can also use this as seating! It is versatile and I love it! Tutorial here.
Outdoor storage benches are an ideal and do it yourself weekend project. A storage bench serves as seating in the summer months and doubles as a home for outdoor toys, gardening supplies or grilling tools out of season. Storage bench should be produced with high materials designed to support the elements. It can be designed with take-off or hinged lids to supply easy access to items stored inside. A set of storage benches can add style to your deck or patio while providing a place to store cushions, candles and bug spray.
An outdoor storage bench is a no-brainer for your backyard. It's a dual-purpose item that saves space, holds up to harsh weather, and looks great among your patio furniture. Especially if you build it yourself with help using Sand and Sisal's DIY outdoor storage box tutorial. Use it to store outdoor pillows, blankets for cozying up around the fire, games, pool toys, or towels. If you have enough seating space, it also doubles as a buffet table or drink station.
You could buy one of these outdoor storage benches at any home improvement store or most department stores, but it will set you back quite a bit. A good one is going to cost you way over $100, but you can make it for just a fraction of that. These things have great storage potential and they double as seating so if you are planning huge outdoor gettogethers and don't have enough seating, you will when you build one of these. Plus, it's a pretty easy bench to build. You can also build a great looking storage bench from cinder blocks that gives you loads of space. Tutorial: ana-white
8. DIY Outdoor Toy Storage
Our House Now A Home got tired of having a messy outside that was full of toys and other kid stuff. So, they decided it was time to get organized and came up with the perfect solution. See how they did it.
9. DIY Toy Storage
Family Handyman shares a fantastic tutorial on how to make your DIY toy storage system that will work for you! It looks pleasant and organized. See what they did.
As our children grow, their tastes and preferences in terms of games and toys change as well, and they are constantly looking for better, newer, more attractive and more appealing toys to play with, neglecting the older ones. If this is your kid's case as well, then you can rest assured – these lovely DIY garage toy storage ideas will help you store the toys that your child no longer fancies. You do not need to throw them away, who knows, maybe you will put them to good use one day, but until that happens these lovely toy storage ideas will certainly come in handy! DIY Instructions and Project Source – familyhandyman
10. Organizing Toys
I'm An Organizing Junkie wanted to a simple solution for her children's toys so that the child could independently put all the toys right where they belong after usage. It turned out wonderfully! Check it out. 
Even your littlest tots will be able to declutter following these simple yet extremely effective organizing concepts from Useful Beautiful Home (and our decluttering flowchart). Just pick up a few lightweight plastic bins to store your kids' assortment of toys. Bonus points if they're color-coordinated, stackable, and perforated so dirt and water can fall through the bottom.
11. DIY Outdoor Toy Storage
Leslie at Plays To Parties provides five tips on how she got their outdoor toys organized and stored correctly. She has some great tips and ideas. See her thoughts here. 
12. Toy Storage Solutions
Take Them Outside was tired of seeing discarded and unused toys in her yard. So she came up with a solution for storing toys as well as rotating them out. See her bright idea here.
13. Toy Storage Bin
DIY Done Right gives you a detailed look at how they made a large toy storage bin that can hold all kinds of toys. It turned out amazing! Check it out. 
Outdoor toys just keep piling up in our backyard. Between sports equipment, water guns, pool toys, and bikes our garage is looking more and more like an elementary school gym! These Large Toy Storage Bins are great storage solution for families like our. They make it easy to store bulky items while also keeping small toys organized and off the ground!
14. Toy Storage Shed
We're Parents turned their DIY toy shed into a family project. It even has a roof on it and can hold a lot of outdoor toys. They also figured out that they can have many uses from this shed in the future too. See what they made.
I have never thought of this idea and it couldn't be more perfect! Rotating toys is a great way to make sure your kids have fun playing and limit boredom! This is also a great way not to have to clean up all the toys every time you go outside.
15. Sand Toy Solutions
Our Wonderfilled Life shows us how to get your kids sandbox toys in order with their organizing solution. The bright colors keep it fun and playful while being functional. Take a peek.
16. Backyard Toy Pantry
Apartment Therapy shows us how to make your backyard toy pantry. They even added chalkboards to it for even more entertainment. Such a creative idea.  Check it out.
Who would have ever thought to create a pantry for outdoors [Apartment Therapy]? This is brilliant and you can see, it has lots of storage. Buy or build a pantry, and then see all these great tips on how to organize it.
I love this cabinet I found on Apartment Therapy.  Jennifer really put together a great space for both outdoor toys and some fun.  I really love the chalkboards on the doors and those red plastic buckets!
17. Outdoor Toy Organization
I Heart Organizing did a fantastic job organizing their outdoor toys. They didn't use a lot of materials and made a considerable improvement. It looks fresh and clean. Take a look.
This is another idea for storing all your kids' cars, bikes, etc. in your garage, integrating them into a larger, awesome garage storage and organization plan. This is the perfect thing if you're trying to get a handle on a mess of a garage. From Place of My Taste
If you have room in your garage for a few toys, this is a great way to maximize your space and give those toys a home! This unique storage idea idea from I Heart Organizing is colorful & practical.
18. DIY Backyard Bike Storage
If you are looking to organize all of your kid's bikes and other rideable toys you have to take a look at the tutorial by Refresh Living. Believe it or not, installing a roof on it was simple! You have to see this.
It's a fantastic tent style outdoor storage and carries portable storage shade. You can easily put bike, cycle and Power Wheels. Usually, bikes, bicycles make a messy environment inside the house. Outdoor storage is great for these kinds of collections. The storage is a space saving storage and designed with tent look. It has a full zip door and integrated with floor space. You can easily organize all collections and it's secure to keep in your yard.
19. Outdoor Toy Organizing
The Organized Mama shows you how you can transform milk crates and zip ties into an excellent solution for toy organization. It is great because you can see exactly where everything belongs. See how she did it. 
This is a wonderful way to keep outdoor toys stored and organized. Attach some bright and colorful hooks to your fence and hang plastic baskets from them. Make sure that they're at a height that your kids can reach though, otherwise you'll be stuck doing the cleaning up yourself. From La Silla Turquesa
If you have a privacy fence, consider hanging buckets for storage [Our Wonderfilled Life]! That way the kids can toss in their toys when done, and be able to reach them easily. Great for water table toys, small balls or cars, or other fun toys.
20. Bike Storage Shack
ICreativeD has found a way to make a truly unique bicycle storage shack. The door is on sliders, and it opens so you can access all your items quickly. It is a perfect size if you don't have a big yard. See it here.
Clean up your bike and scooter filled garage with this great outdoor toy storage idea. It would also work great on a front porch or back patio! The Toy Parking Lot is a great way to teach your kids organizational skills at a young age, which will serve them well into adulthood. Just use some duct tape or spray paint to mark parking spaces for each of your child's ride-on toys. From Useful Beautiful Home via Organizing Junkie
I absolutely love this bike storage rack. Not only does it help you to keep your bikes all together and organized, the bikes slide into the rack so they are hidden away. This helps to keep your lawn cleaner and more organized and helps to protect your bikes from the weather. If you don't have a garage where you typically store your bicycles, this DIY bike storage rack is an absolute must. And it's a pretty easy build, too. Tutorial: icreatived
If you don't have a space to store your bikes what about creating your own bike garage? This bike garage is made by Treesaurus out of London, UK. So if you are not local to them but you are handy then you could make this yourself! Check out their site here!
21. Outdoor Toy Organization
Andrea Dekker shares how she got all of their outdoor toys and tools organized once and for all. Everything is straightened out and orderly now. How she did it. 
22. DIY Sandbox Organizer
Shanty 2 Chic offers a tutorial explaining how to make a sandbox with shelf for organizing those sandbox toys. The kids will love it, and you will like how everything is one place. Make your own.
There are so many great ideas for Sandbox Toy Organization and sandbox play ideas here, but my favorite is the idea of using old metal planters as storage containers for the sandbox toys. From Happy Hooligans
23. Outdoor Toy Tubs
I Heart Organizing found a great way to organize skates, trucks, pool toys and more. She used tubs and labeled them and conveniently organized them on a shelf in the garage. It looks wonderful! See for yourself.
Each basket has its own purpose, one is for bike helmets, training wheels and a pump, another is for sports equipment such as baseball mits and soccer shin guards, one is for sandbox toys and one is designated holder of roller skates.
24. Toy Storage
Happy Hooligans shares several tips and ideas for sandbox toy ideas as well as organizing. It is a fun and helpful post that can inspire you to find a storage solution. Check it out.
25. DIY Nerf Gun Storage
If your kids have a ton of nerf guns that need to be organized, take a look at the article by Inspiration Made Simple. She made a pegboard organizer that works great! See how here. 
If you have kids that love Nerf guns, then you'll love this wall. It is a peg board that has been transformed into a great space to hold Nerf guns and all that comes with them. So if you need an inexpensive way to store your Nerf guns this could very well be it.
Mums all over the world have discovered that the uber-efficient peg board can easily be hacked into a storage area for Nerf guns. You can pick the peg board and an assortment of pegs up from Bunnings and jazz it up with signs, stickers and even hazard tape. Simply nail it to a wall and you've got yourself a personal artillery. I mean, what little Nerf-gun loving kid wouldn't love it?
Fun Ways to Organize and Store Toys
Prevent unwanted dirt, bugs, and other bacteria from being brought back into the house by building this outdoor storage unit to keep your kids toys in.
This is a great idea and way to build a 'fold away' storage box for their toys and other things, and will be fun to use to teach them how to organize their things!
This storage method can be built and fit in many places whether on your deck or inside of an outdoor bench.
I hope you found some great ideas for your next organizing project. Which one do you think your kids would like the best? Let us know in the comments!
You can organize your yard just like you do your home! When your kids are done playing, they will know where the designated spots are to put their toys. Which of these ideas is your favorite?
Finally, if you want a clutter-free environment, our outdoor toy storage ideas would be well-suited for you. Before you want to buy any storage, just pay close eyes on our given top storage ideas that will help you a lot to choose the perfect one. Make sure the outdoor toy storage ideas you are planning to buy is durable and stylish look as well because it will attract the kids quickly.