Whether for those summer days, spring, or even in the fall, outdoor pallet bars can be lots of fun, and a simple, cost-effective solution for bonding with your family, friends, and loved ones.
When it gets really hot outside, or even for certain winter days, getting a BBQ or grille going, and making hot S'mores can be the answer!
Below we've compiled a list of easy to make, budget-friendly outdoor bars made simply using old pallets, a little bit of paint, some basic tools, and simply creativity!
These ideas are made to be simple, versatile and even enjoyable projects you can build with your friends or little ones! Most of these DIY Pallet Outdoor Bars can be made in just a weekend's time or less, so read on to discover how to get started – and don't forget to have fun!
Combination Pallet Bar
This is a great solution to an outdoor pallet bar, and is excellent for storing your drinks, mixers, and even lighting a few candles on top! You can also squeeze a plant or two on top to add to its personality – just don't forget to make sure it's stable!
Built-In Pallet Bar For Your Deck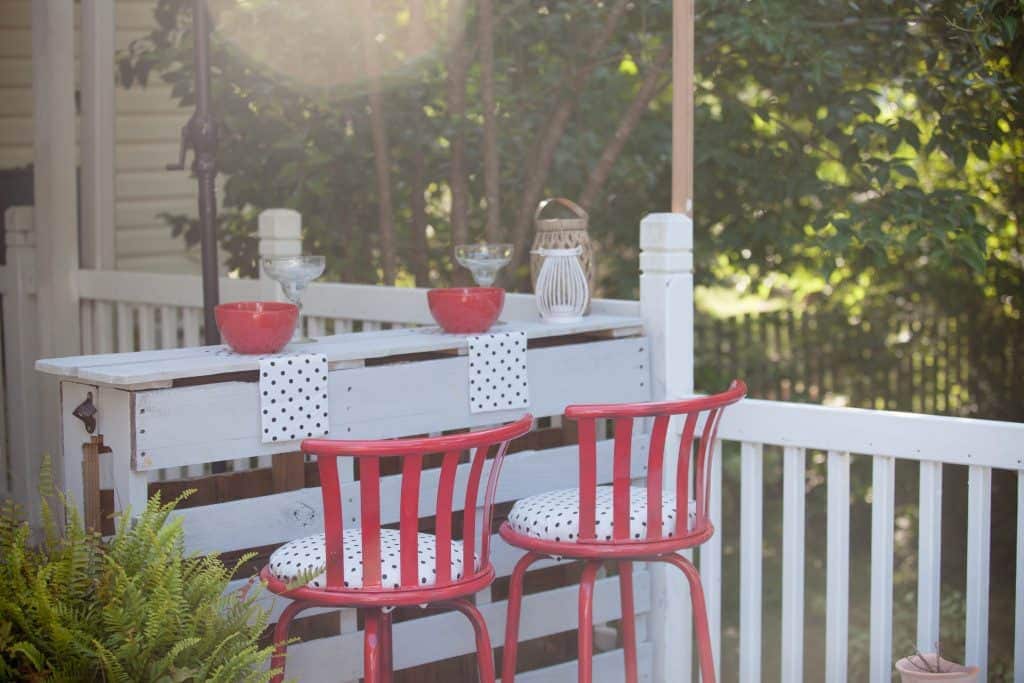 This simple, classic DIY pallet bar is built onto an existing deck making it extremely easy to put together. It's a wonderful solution for bonding with your loved ones or for having a friend over for tea. It's sure to be a conversational piece, and with a few napkins or table-cover, and a chair or two you'll be ready to go!
DIY Details: Elizabeth Joan Designs
Wooden Mystique Pallet Bar
For those looking for something fancier, combining multiple wooden pallets, and just the right accent of wooden-finish you'll be able to bring this DIY wooden pallet bar to life in your back yard in no time!
You can even add old recycled mason jars on top to add to its aesthetic appeal, and its design will make you feel like a real bartender in no time when having friends and family over to visit!
DIY Details: homedreamworks.pw
Classic Pallet Bar
This is a nice, classic pallet bar design that's great for small spaces, and can be set up either on your patio or somewhere within your back yard. With a little bit of white paint and the placement of a few marble stones or slabs, you'll be ready to have a fancy feast in no time!
DIY Details: DIY Joy
A Decorative Wooden Pallet Bar Design
This decorative DIY wooden pallet bar is very similar to the one above except the slats run horizontal instead of vertical.
The design is easy to make, and you can create multiple bars like this around your back yard patio to accommodate various planters, candles, snacks, drinks and more! It's simple, yet stylish and made perfect with the use of a few extra walkway stepping stones or granite slabs.
You can download the plans to make it via 1001 Pallets website. Just be aware that you will need to give them your email to access the download… If that doesn't bother you the link to the download page is below:
DIY Details: www.1001pallets.com
Wooden Pallet Bar For 'Tea Time'
This wooden pallet bar on wheels is the perfect solution for whipping up some hot tea or hot chocolate for a nice conversation with your family, and easily storing away later on to use as a bar – thanks to the design of its mobile wheels!
DIY Details: blog.themillionairesdaughter.com
Full-Service Wooden Pallet Bar
This DIY wooden pallet bar has a nice wrap-around design, nearly identical to a professional bar serving table and has even incorporated the use of additional wooden pallets to create sleek, stylish stools for your friends and family to hang out on!
DIY Details: The Owner Builder Network
The Ultimate Wooden Pallet Bar and BBQ Design
This complete wooden pallet bar design is the ultimate DIY project that will give you the necessary storage, accessibility, and style to whip up your guest's favorite BBQ meals, drinks, and more!
As you can see, the wooden pallet used here has minimum modifications other than some cut-outs, and is a project that could likely be done in just a few hours!
DIY Details: www.palletsideas.com
Simple & Classy Stacked Pallets
This simple, yet classy DIY wooden pallet bar design was created by simply stacking a few wooden pallets on top of each other, and taking a makeshift blackboard to put cute notes, or advertise tonight specials – and drinks!
This wooden pallet bar is also great for storing drinks, extra snacks, and with a few industrial hooks could also be a nice place for your guests to hang their jackets or purse.
DIY Details: Deer Pearl Flowers
Modern Wooden Pallet Bar Design
This wooden pallet bar design has a 'retro' look to it, and is perhaps something you'd expect to see come at a premium price from a furniture outlet store like IKEA!
In addition to using wooden pallets, adding a stool or two, and setting up your BBQ grille next to this bar will make for the ultimate combination, and is sure to make you the talk of the town!
Natural Style Bar With Concrete Counter Top
Here's a nice simple outdoor pallet bar with a poured concrete top. Nothing fancy here, you can make this one in an afternoon. This has one of the better DIY tutorials so if you like step by step guides give this one a look.
DIY Details: Instructables
The Old Fridge Pallet Bar IceBox
This super-functional pallet bar with a built-in ice chest is pure genius! Take an old refrigerator, gut the electronics, flip it on it's back, give it a rustic facade and BINGO! You have the ultimate party bar. The insulated icebox will keep drinks or finger foods fresh all day.
The old refrigerator section is not used – instead, it is surfaced with a huge wooden countertop perfect for food prep or drink making. If you need a bigger icebox area I suppose you could use the refrigerator area in addition to the icebox, but it would take a whole lot of ice to fill!
This pallet project is easier than it looks to build and can be accomplished in a single weekend. You can find a very complete step by step do-it-yourself guide over at Ideas 2 Live For.
DIY Details: Ideas 2 Live 4
Portable (Fold-Up) Pallet Bar
Most pallet bars are designed to stay in one place. You build it in a corner of the backyard and it stays there forever. But what if you want something that you can break out for parties and then store away in the garage when not in use.
If that's the case then the folding pallet bar is just what you need. It looks great and is super functional.
My Repurposed Life created this brilliant little bar so they could take it anywhere they wanted. The 3 sections are hinged so it folds in on itself for easy transport and storage. Check out the detailed DIY instructions on their website if you want to build your own version.
DIY Details: My Repurposed Life
Pallet Wine Bar & Stools
This narrow pallet wine bar is the perfect solution for seating at a party or outdoor event. Your guests will be drawn to the boxy bar stools and rustic bar surface. Many selfies will be taken with this bar as the backdrop!
You can build this project in a couple of hours with minimal skills or tools. The tutorial is not very complete – but you should be able to glean the basics from it.
Note that this unit has no storage so if you are looking for a design that can act as a service area you should probably pick one of the other designs.
DIY Details: Stacked Design
Beautiful Tiled Pallet Bar + Free Downloadable Plans
This is a really great looking pallet bar with some nice detailing that would look amazing in any backyard. It has ample storage built so it is practical as well.
You can see more pictures of this bar over at the Shanty 2 Chic website. The DIY build plans are quite good, they have included an illustrated PDF that shows you exactly how to put this unit together
The DIY Plans are a bit hard to find on the page so I included the link for the PDF download below in case you couldn't find it.
DIY Details: Shanty 2 Chic
Super-Simple Hawaiian Tiki Bar
Here's a nice little DIY tutorial for building a super-simple Tiki bar from a pile of old pallets. The finished product looks pretty amazing thanks to a whole lotta Tiki accessories. You can build this project in an afternoon and be drinking Mai Tais that very night!
Note that this is a 2 part tutorial, so be sure to check out both articles for the full effect. The link to part one is just below.
DIY Details: The Purple Pumpkin Blog
DIY "TreeKee" Bar from Old Pallets
No, that is not a typo up there in the title, the couple over at The House House actually dubbed this cool Tiki style bar the "TreeKee Bar" because of the way they worked the existing palm trees into the design. Pretty clever actually, the leaves of the palm tree give the boring wooden roof a thatched look which really sells the Tiki style.
The details are what really make this bar noteworthy. The rope wrapped support beams, rustic wooden bar sign and paver floor add a finished quality that many of the other bars on this list lack.
Be warned, this is no simple weekend project. This build took quite a bit of work (and materials) but I think the results are pretty spectacular.
DIY Details: The House House
Epic Beach Pallet Bar
And now for something truly EPIC! This DIY pallet bar could almost qualify as a Tiny House. This was not some quickie Sunday backyard project. Building something like this would take a real commitment…
James at Survive France spent 3 straight hours pulling nails and cleaning up the pallet boards before he even started the building process.
Many pallet projects cheat a bit and use 2x4s or 4x4s to construct the base frame – none of that sissy stuff here, James used ONLY wood from the actual pallets.
Most pallets are only around 3 ft. long, but James needed longer sections for the foundation so he actually mitered, glued, and screwed multiple short stringers together to make the beams he needed… Now that's dedication!
There is a VERY detailed DIY tutorial over at his website along with a more pictures of the Bar's many cool features.
DIY Details: Survive France
Awesome Backyard Pallet Pub
Here's another awesome backyard bar made from old pallets. Although, since it is in Sheffield, England I suppose we should call it a Pub.
This DIY Pub only cost the builder around $112 to build. He got the pallets (lots of them) for free so the main expense was building the roof and slapping a coat of paint on it.
This looks pretty intimidating at first glance, but if you take a close look it's actually pretty simple. The Pallets are just stacked 2 high and screwed together with very little cutting or modification.
Unfortunately the article over at Bored Panda is not really much of a how-to so if you want to build something similar you will need to figure out the details yourself
DIY Details: Bored Panda
Off-Grid Pallet Tiki Bar
Here is something a bit different. The guys at TA Outdoors built this DIY Tiki bar out in the middle of nowhere as part of a homesteading project. They started by building an entire cabin (complete with outhouse) out of pallets so I guess they needed somewhere to kick back and relax after all that hard work!
The video is pretty entertaining and worth a watch. These guys have 1.4 million subscribers on their Youtube channel so I guess they're doing something right.
DIY Details: TA Outdoors
Hanging Wall Pallet Bar
Here's a great hanging bar pallet project that you can build in an afternoon. Fold it down when you want to serve, and when the party is over just fold it up and out of the way.
DIY Details: Manomano
---
Getting started with a backyard DIY wooden pallet bar shouldn't be hard, and should actually be fun! These ideas we've shared with you above are designed to be completed in one weekend or less, and last for many weekends to come!
Have Fun!