Discover the elegance and sustainable beauty of DIY Easter wood crafts. From springtime pallet signs to wooden Eastern centerpieces, these crafts are durable alternatives to their plastic or paper counterparts.
Since wood is versatile, wooden Easter crafts range from simple canvas art to intricately carved outdoor sculptures that the whole neighborhood can enjoy.
There are numerous benefits to taking the time to try Easter wood crafts this year. For children, easy Easter wood crafts can help develop fine-motor skills and build great hand-eye coordination.
Due to the nature of a wood project, wood crafts can also help children discover mathematical thinking (such as size, shape, and volume) and engineering skills (such as measurement, geometry, and execution).
Finally, children can learn the value of taking a raw material from conceptual idea to project completion.
For adults, the more advanced Easter crafts offer a great way to revive previous woodworking skills or embark on a new hobby.
Wood is also ideal for creating artisan goods for resale, so woodworking is often a better time investment if you are serious about launching a new side hustle for handmade goods that you can sell alongside Easter wreaths or custom Easter baskets.
In terms of design aesthetics, wood is alterable and versatile since you can carve, sculpt, sand, paint, and even staple it. Since wood is porous and natural, it absorbs most types of paint and vinyl.
It always looks great when you leave it with a natural finish, but you can also customize wood and spray with a waterproof glossy topcoat. In addition, wood seamlessly complements any rustic or farmhouse decor. It is suitable for houses in any climate and always simple to polish, wax, or clean.
Wooden decor is much more economically friendly than plastic or synthetic alternatives. There is wider availability of this raw material and it has a significantly lower carbon footprint than other materials.
Wood recycles easily, and if you do need to discard it, the material decomposes naturally with the environment. The following master list of Easter wood crafts provides ideas for using one of the world's most enduring materials for decorating both indoor and outdoor settings.
Capture the unmistakable charm of farmhouse decor with this bunny-themed door hanger. With a bunny template and simple plywood, you can make a handsome hare perfect for locations ranging from front doors to entryways.
With slight modifications, it also makes a great coat hanger for children's jackets as well as light sweaters or cardigans.
Create the perfect home for springtime plants with this DIY wooden rabbit planter. Refurbish a country wooden basket of any size using items as simple as sandpaper or stencils.
Repurposed wood is suitable for both indoor and outdoor decor, and natural wooden planter boxes perfectly complement to the vibrant color of fresh-cut flowers.
Perfect the aesthetic of your vegetable garden using wooden yard carrots. These carrots will never wilt or rot, remain brilliantly orange whether rain or shine, and easily prevent woodland visitors from swiping your hard-earned garden stash.
Since wooden yard carrots look fresh and ripe all year, they are the ideal backdrop for anything from Easter egg hunts to pumpkin-patch pictures later in the year.
Bring provincial appeal to your front or back yard with this bunny crossing sign tutorial. Instead of discarding old fencing or allowing it to collect dust in the shed, you can revitalize rough-hewn wood using springtime paint.
Personalize the sign with a fuzzy scarf if the weather is still chilly, or plant brightly colored flowers to reflect sunshine days.
Transform ordinary wood blocks into cheery Easter accessories with this DIY 2×4 bunnies tutorial. This craft is great for repurposing small leftover wooden blocks from other projects.
With a few vinyl silhouettes and some acrylic paint, you can fashion durable wooden blocks perfect for the nursery, playroom, or classroom.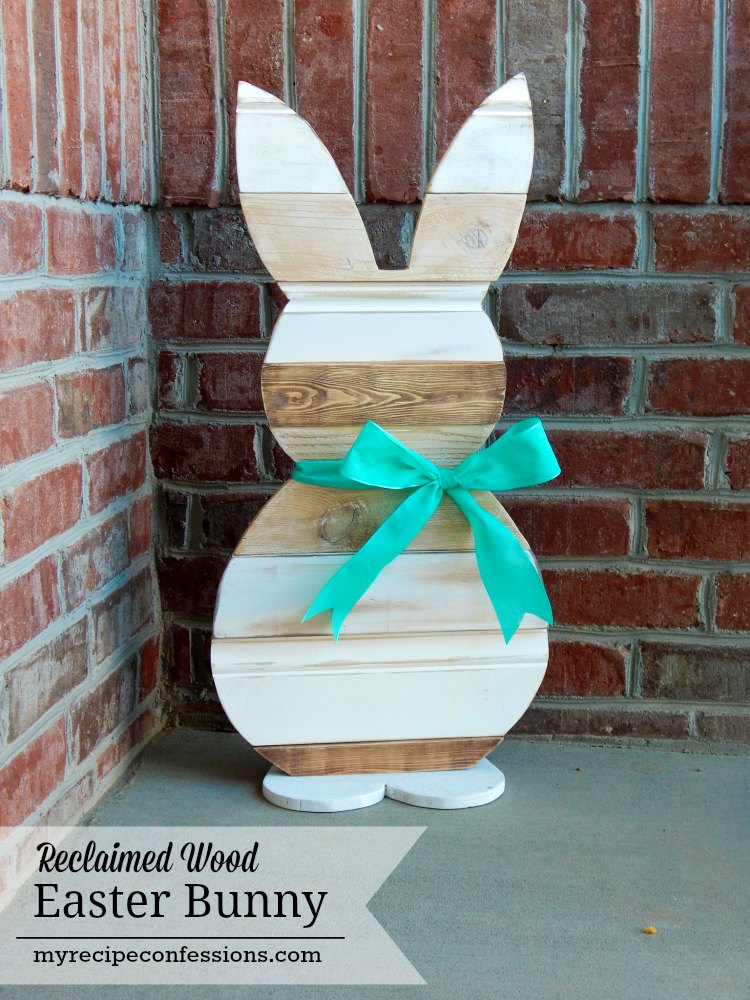 Convert a discarded baseboard into decor to remember with this reclaimed Easter bunny tutorial. By alternating slabs of scrap wood, you can create a multi-textured look perfect for decorating your porch or walkway.
Use the same method to create adorable signs or place markers for Easter egg hunts and relay races.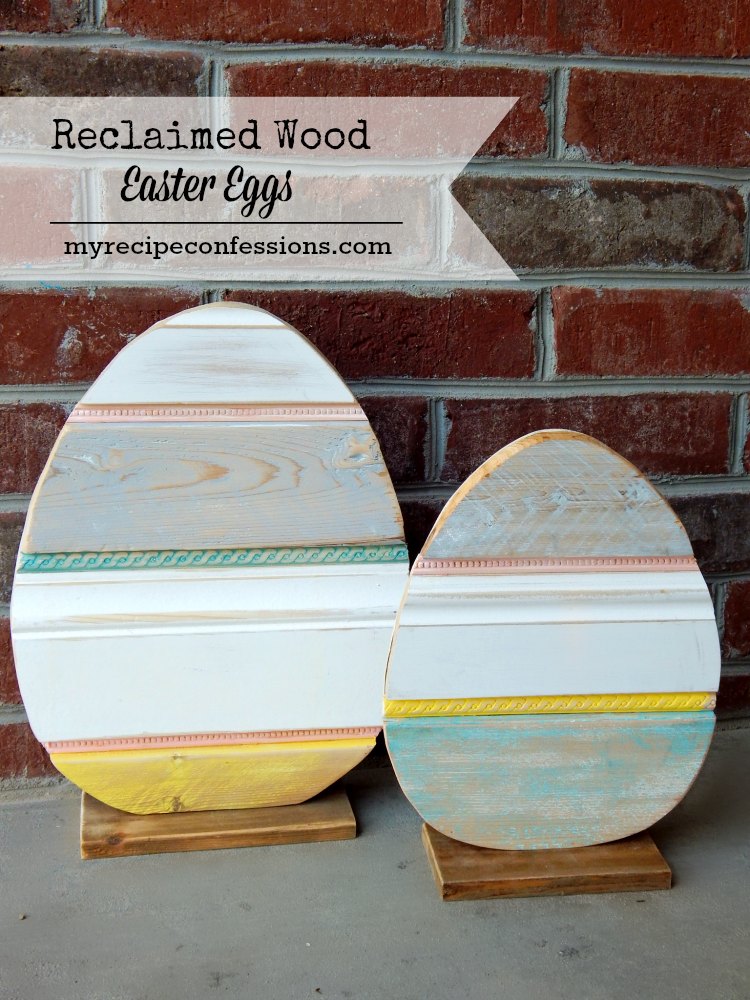 Strapped for time and unable to complete a full Easter bunny project? Give your porch the same curb appeal with this reclaimed Easter egg project.
Using alternating slabs of scrap wood, this project produces a giant decorative Easter egg without taking days to complete. Because the egg shape is simple, the craft is also perfect for woodworking beginners.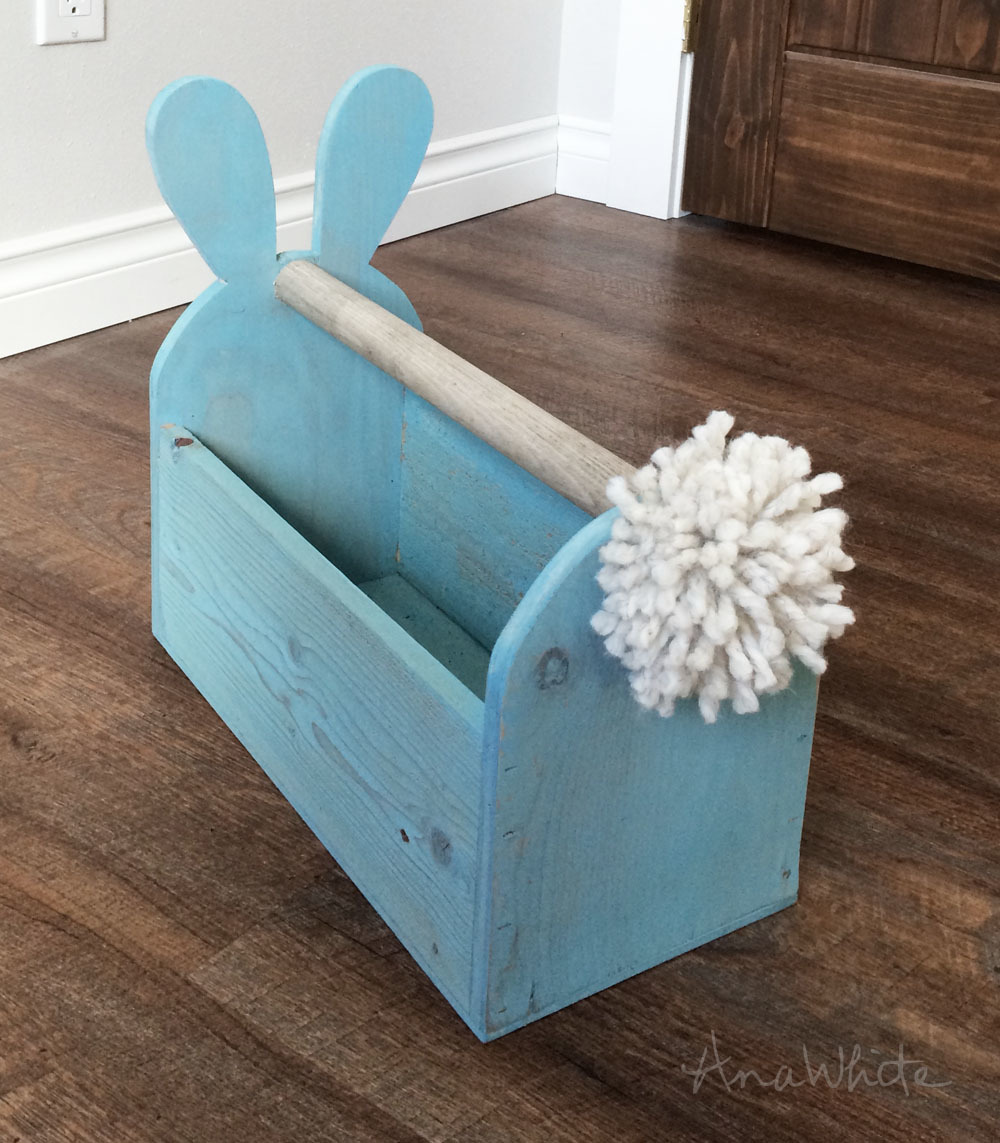 If you have a few old tools and wood scraps that you no longer need, you can create a gorgeous wooden bunny basket with matching tail. The project uses odds and ends like an old shovel handle and scrap plywood to make a traditional wooden basket known as the Sussex trug.
Dating back to the early 1500s, this style of trug is perfect for displaying wildflowers or serving as a miniature toy trunk.
Forget the plastic lawn sculptures. This project uses plain wooden boards to create heartwarming Easter bunnies. And since the style encourages a handmade aesthetic, it does not require precision cutting or power-tool expertise.
Use this craft to tastefully decorate your front yard or create items for resale.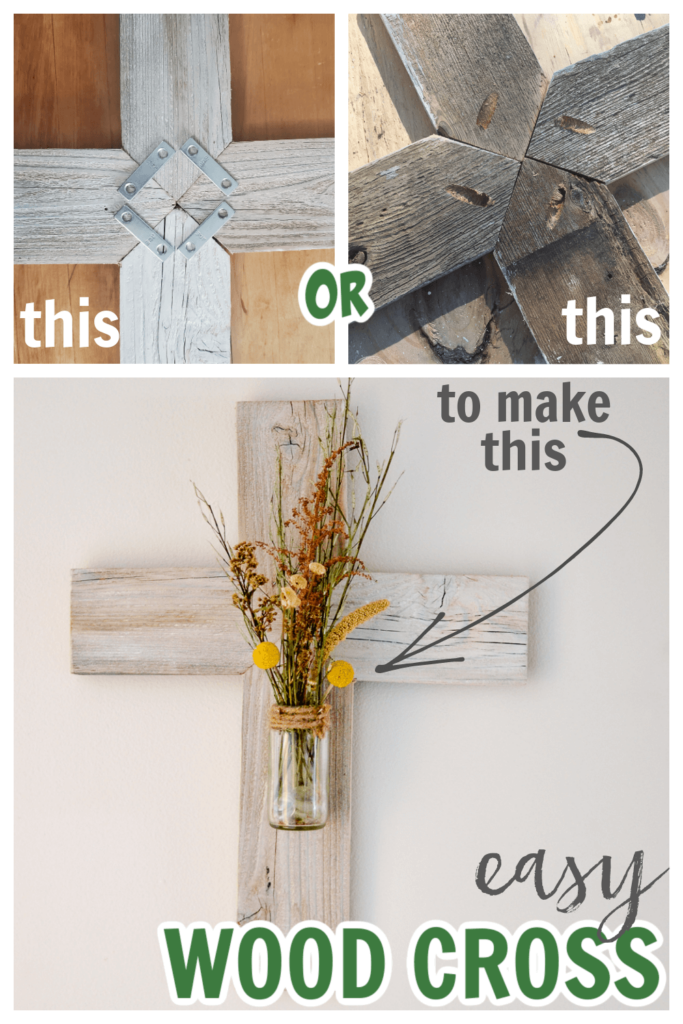 If you enjoy adorning your home with rustic or farmhouse decor, try this DIY wooden cross and vase. You can use the tutorial to whitewash type of reclaimed wood from the fence, barn, or scraps as a decorative wall display.
Polish a mason jar and use gauge wire to attach it to the wood as a convenient flower vase.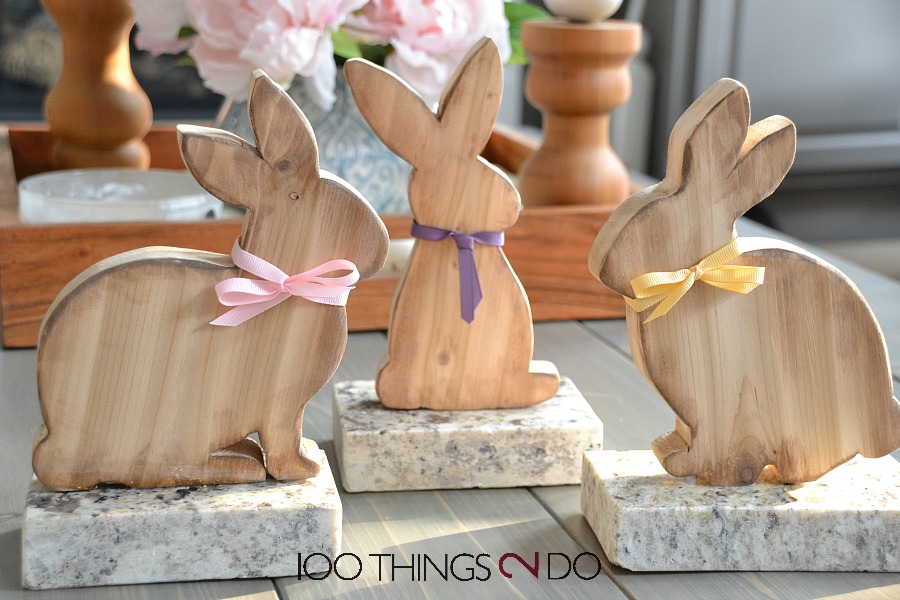 Get creative about countertop enhancement with HomeSense wooden bunnies. With just a few slabs of granite sample blocks and leftover plywood, you can create sturdy bunnies for elegant display.
The bunnies make excellent place markers for an indoor Easter meal, and cedar or similar types of plywood ages beautifully if you choose to leave the bunnies outdoors.
Because natural wood comes in a variety of tones and colors, it is perfect for creating a fashionable zigzag pattern known as chevron. In design terms, chevron is an inverted "V" pattern that brings dimension to a room without overpowering existing decor.
This tutorial uses alternating shades of wood to produce a decorative egg perfect for making any room feel more festive.
No need to worry if you feel disinclined to carve the perfect bunny or hare. Produce ornamentation with the same pleasing effect with these chunky bunny blocks.
This tutorial enables you to use wooden blocks of varying sizes to create cute bunnies – complete with matching whiskers and adorably floppy ears.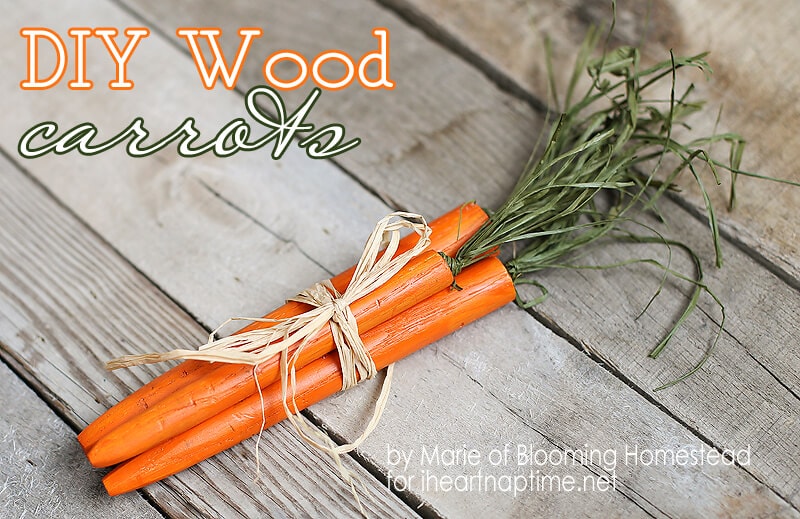 Interesting in decorating with a bright bundle of carrots that will never grow dull or mushy? Use this delightful DIY wood carrots tutorial. These countertop carrots are quick to make and do not require extensive woodworking knowledge to complete.
Since the design is simple for beginners to master for springtime decor, you also can apply the same principles when it is time to make decorative pumpkins later on in the year.
Silhouette signs are great ways to get visitors and passersby in tune with the holiday. This tutorial teaches you how to use scrap wood and stencil vinyl to make a universally recognizable bunny sign. You can then accessorize your festive bunny with plump flowers that never wilt.
And even better – you can use this same technique to make a Santa sign for Christmas later in the year.
Need a last-minute Easter craft idea? Try this DIY decorative wooden block. Simply sand down a block of wood (of any size) and use vinyl to inscribe the message of your choice. Spray with a glossy topcoat and embellish with pretty flowers for the finishing touch.
If you are not ready to carve whole replicas of vegetables made out of wood, why not use an old piece of wood as the base pallet instead? All you need is a silhouette-cut file of your preferred vegetable and some scrapbook paper or card stock.
Trace and cut the image onto your paper and then adhere it to your pallet wood using Mod Podge or superglue.
Looking for Easter decorations versatile enough to stand on their own or hang as wall artwork? Create your own with this Hippity Hop craft. With just plywood and some acrylic paint, you can make a festive piece perfect for parties or Sunday school classrooms.
While the original board stands on its own, you can also drill a few holes to hang it in your entryway or vestibule.
If you have a stack of old wooden pallets just sitting around, you can transform them into a fun Easter project instead of letting them become eyesores.
This craft uses pallets, acrylic paint, and chalk to create a bunny sign atop a gorgeous pastel rainbow. It is an easy backdrop for major Easter photo sessions or outdoor children's parties.
There is nothing quite like the nostalgic charm of a bunny trail sign to put everyone in an uplifting mood. This step-by-step tutorial teaches you how to make your own homespun trail sign using farmhouse wood and chalkboard paint.
Once you get the hang of it, use the method to make other rustic signs for celebrations like picnics and birthdays.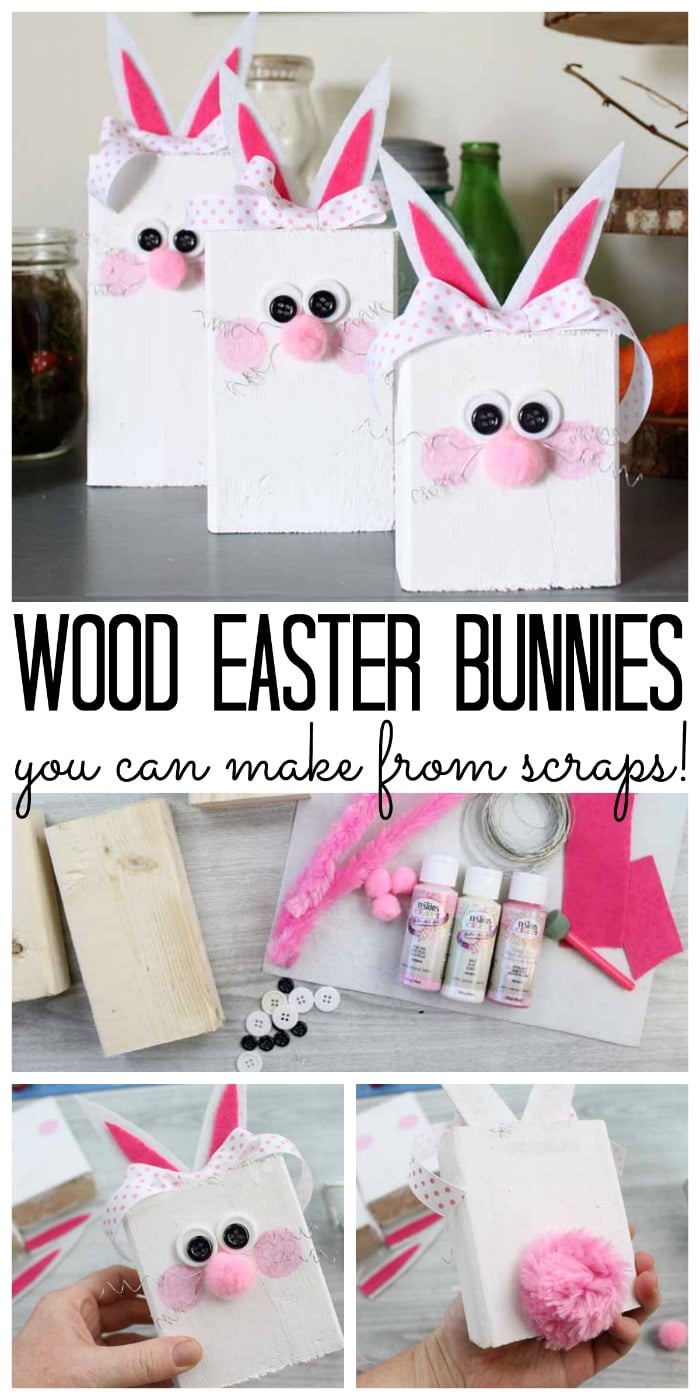 If you are eager to start teaching older children to make crafts from blocks, these whimsical Easter bunnies offer a fun way to start. Simply gather any scrap wood, buff away any rough surfaces, and then coat twice with white craft paint.
Use other craft supplies like buttons, pipe cleaners, and sponge brushes to make features like the whiskers and bunny ears.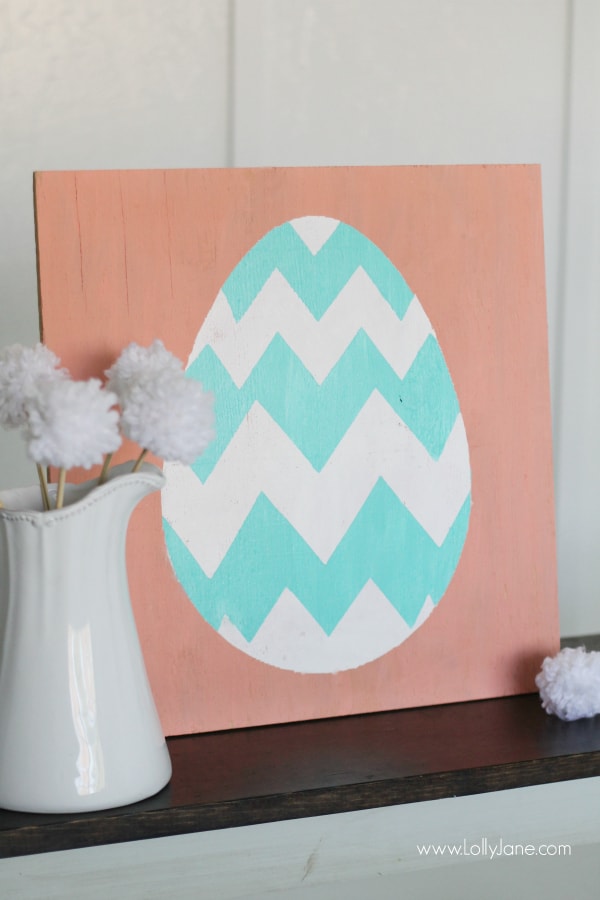 No longer do you have to commission a carpenter to create a cute wooden sign to perk up your desk or mantelpiece. Instead, follow this tutorial that combines leftover plywood and multi-surface paint to fashion a chevron masterpiece.
If chevron is not your style, try stripes or polka dots instead. And since this craft is lightweight and fast to make, it serves as a great gift for neighbors or friends.
Those looking for seasonal updates that integrate smoothly with rustic, farmhouse, or coastal decor can enjoy this simple bunny silhouette tutorial from Just a Girl Blog. Simply stain a piece of plywood, cover it with painter's tape, and then trace your bunny outline over the tape.
The result is a reverse stencil that looks great next to everything ranging from wicker baskets to wooden benches.
The woodland creature's arch-shaped door is a perennial trope of popular culture. From children's storybooks to classic cartoons, images of the adorable miniature door frequently grace the page or screen.
This visual pictorial helps you replicate the trope with scrap wood and Easter props perfect for adorning the base of your backyard tree with a bunny door. And never forget – you can use the same concept for leprechauns on St. Patrick's Day or little elves for Christmas.
Sorry, not much in the way of "How To" over at Dave's website – but there are a couple more pictures that will give you a better idea of what would be involved to make this amazing bunny door!
With enough craftsmanship, you can even use fallen trees or branches to your creative advantage. All you need is for the designated lumberjack of the family to don the appropriate safety gloves and goggles before pulling out the chainsaw or power tool.
Use the tool to cut the log or branch into discs of varying sizes (trunks tend to be thicker in the middle and skinnier toward the ends). Then head over to the tutorial to create a decorative Easter bunny made almost entirely of wood.
Capture the wonder and anticipation of waiting for a fun party with this captivating Easter Egg Hunt Countdown tutorial. Gather a few wooden slat signs and some hardware store items like stencil letters, sponge brushes, wood glue, and assorted paint.
This is an all-day project that requires plenty of patience, but the delightful experience prompts readiness for the Easter season like none other. Use the same tutorial concept to create future countdowns for school dances, birthday parties, and Christmas Day.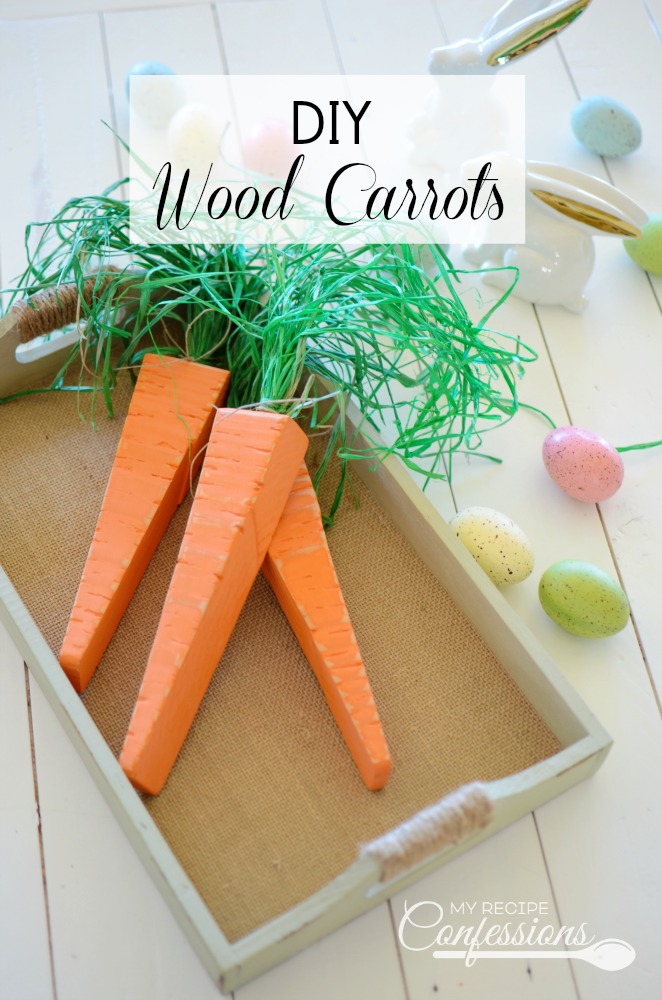 No need for beginners to miss out on the fun of making beautiful wooden Easter carrots. This tutorial provides a simple wooden carrot template, and you can cut any type of preferred wood using a miter saw or jigsaw.
Use sandpaper to give your wood the ideal texture and soft orange paint to ensure a classic vintage look.
Show the neighborhood that you are ready for spring with these wooden Easter chicks. This step-by-step tutorial teaches you how to make cheerful chicks from wood blocks, thick paper, and paint.
No two chicks look alike since you can use an array of colors, ink, feather boas, and ribbons to personalize your designs. Use these Easter chicks to spruce up the outdoor decor or make an entire brood as gifts for family and friends.
Who says decorating the fireplace is only for Christmastime? Deck the mantle or flank each side of the fireplace with this candlestick rabbit tutorial from Craft Goodies. These candlesticks work beautifully on either side of the mantle with an Easter wreath as the centerpiece.
Instead of actual wax candlesticks, the tutorial uses repurposed wooden table legs purchased from any hardware store. Accessories made of clay, muslin, and raffia complete the look. Once you perfect the technique, you can create similar candlesticks for kitchens and entryways.
The Bottom Line
Since no two pieces of wood are exactly alike, Easter wood crafts enable you to make items that are truly one of a kind. And because wood is durable and valuable, it is a wonderful idea for family heirloom items and personal keepsakes. In addition to classic Easter egg hunts, any of these crafts make a choice for decor that you can reuse every year for events like Easter pageants and school plays. Refer to this list often as you brainstorm durable wood crafts for the holidays.