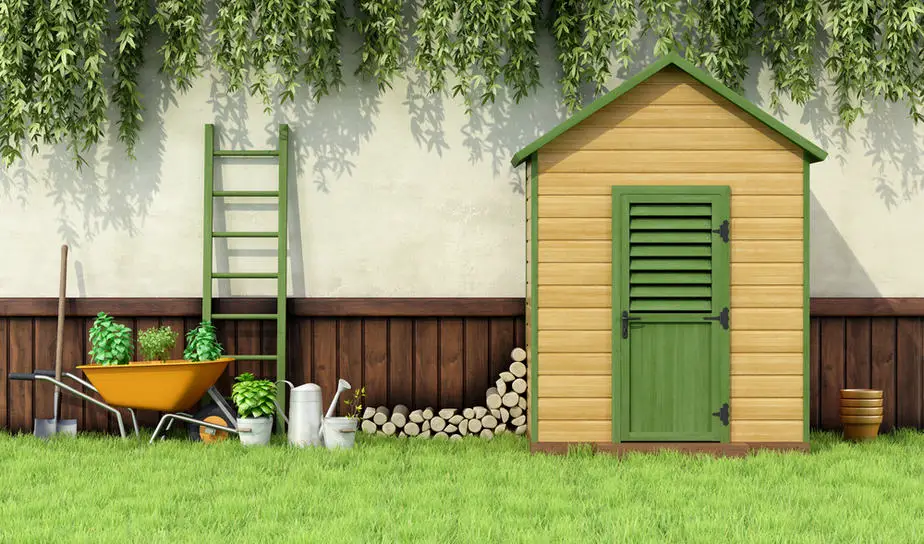 Modern sheds are much more than a place to store lawn mowers and old tools. They can add extra storage, be used for office or workout space, or make gardening even more convenient with a garden shed and potting table. In this article, we'll be going over 35 shed ideas sure to inspire you to create an awesome shed design. 
Sheds are really fun and useful. You can build a shed from just about any materials. You can be handy and use scraps you already have laying around or you can buy kits with metal, plastic, or wood sheds that just need assembly.
You can also just purchase roof kits or window and door kits. Part of the fun of having a shed is the design phase. You can make it whatever size, shape and color you want. You can pour a concrete foundation or use concrete pavers, deck blocks, or even pour gravel into a timber frame.
The most important thing when creating a foundation for your shed is making sure that it is level. Then you just need to add the framing, siding, roof, doors, and windows. You can purchase ready-made options or use a combination of DIY and kits to build the perfect shed.
If you are going to use your shed for an office or another extension of your home, you will need to consider insulation, power, and heating and cooling options. If it is just a tool or garden shed, you may not need all of this. Just a simple structure on a level foundation is all that is required.
Whatever you are doing with your shed, dressing it up with paint, shutters, a fancy door, plants, or signs will go a long way to make it your own custom space. Sheds can be used for art studios, workout areas, play areas, a recording studio, or your own hideaway.
Garden sheds tend to be a tad neglected. More often than not they are a graveyard of forgotten plant pots or a dump for the dregs of the lawn mower. At House & Garden we believe you should make the most of the extra space – treat it as an opportunity to create something beautiful!
From a writers retreat to a designers outdoor dwelling, we've found 9 sheds to inspire.
---
SMALL WOODEN SHED
Posh sheds are indeed better than your average back-garden structure. Handmade from good-quality redwood timber, they can be painted in the colour of your choice from the ranges at Farrow & Ball or Little Greene. 'The Potting Shed' has a steep pitched roof lined in waterproof membrane and clad in a choice of cedar, felt or slate-effect shingles. It is available in six sizes; the shed pictured is 2.5 x 1.5 x 2.1 metres and costs from £3220, including delivery and installation.
ROALD DAHLS GARDEN HUT
Where do great writers go to dream up their best ideas? The garden of Gipsy house, the home of the late Roald Dahl, is permeated with that certain Dahlian magic that is so familiar to anyone who has read his work. Planted by Roald and Wally Saunders – a gentle giant of a builder who provided the original inspiration for the BFG – together they laid the paths, planted the limes, and built this magical birdhouse with window ledges lined with 'dream catchers' (for those not familiar with the BFG, those are, of course, the jars that giants catch dreams in).
Home to all five Dahl children, his wife Liccy who still lives at the property, tells how it was the kind of garden where the children would wake to find their names spelled out in weed killer on the lawn to celebrate a birthday.
Elsewhere in the garden is Dahl's writing hut, which he based on Dylan Thomas's 'word splashed hut' in Laugharne, Wales. Here Roald Dahl would lose himself in his work, writing only in pencil on yellow lined paper – his favourite colour.
Taken from the September 2008 issue of House & Garden.
LOG CABIN TV ROOM
Located at the bottom of the garden of a home in Notting Hill is this 'shed'. Far from being a dusty toolshed this garden room is a chic log cabin, it has: a movie projector, a keyboard, old records, ceiling papered with old NME magazine covers and a sofa upholstered in Linwood floral velvet. It is the dream snug hangout for teens and grown-ups alike.
GARDEN ROOM SHED
We discovered this Nordic-inspired garden via The List – House & Garden's new online directory (find out more here). The area was designed by Victoria Wade Landscapes to evoke an idyllic family holiday in Norway, complete with groups of birch trees, a turf-domed pavilion inspired by the local vernacular and granite setts reminiscent of Bergen's cobbled streets. Transplanted to Cardiff, it is a cosy retreat from the wild Welsh weather.
OFFICE GARDEN SHED
Designer Sir Paul Smith requested not just a shed from bespoke furniture designer Nathalie de Leval, but 'my Shed', when the two were brought together for the London Design Festival's Wish List exhibition, where emerging designers created something to order by more established design maestros.
A room that would be perched overlooking an amazing view in the grounds of his house, with glazed Crittal windows, measuring 3 x 3m (the same size as his first shop in Nottingham), where he would have room for a chair and a radio. Inspired by the shed of writer George Bernard Shaw, he requested 'somewhere I can go to really to switch off, somewhere to relax. In today's world where everyone is so busy, I think this is really important and very needed.'
This shed is just a single room, a 'room of own's own'. Furnished in a restrained but not an austere way, it isn't a monastic cell. Rather, the honey-coloured wood, upholstered and padded seating, the cheeky pop of cheering red and even the slightly kitsch floral oil painting on the wall give the space some real charm and warmth.
Did we mention this room actually pivots? There's a mechanism that allows it to rotate and follow the sun. The stuff of dreams.
GARDEN GUEST ROOM
Having been granted planning permission for a building on the plot, TV presenter George Lamb commissioned Maria Speake of architectural salvage company Retrouvius to construct a cabin at the end of his garden that would function as a guest room. Rather more luxurious than your average shed, the space is kitted out with underfloor heating, triple skylights and a bathroom. See inside here.
WOODEN GARDEN SHED
The unique garden buildings from Grainstore are built on to wooden staddle stones, meaning that they are ideal for uneven parts of the garden. Made from sustainable timber and painted a traditional black, the summerhouses and pavilions have a cream-painted interior – or can be custom-painted. Sizes and specifications are bespoke, but as a guideline a 2.3 x 1.8 metre summerhouse with a standard black exterior and cream-painted interior is £7,500, including delivery and construction.
ARTISTS STUDIO GARDEN SHED
A garden shed that is also an artists studio. This wooden structure by architect Charles Morris is where the owner, Lady Anne Field, goes to paint. Its glass walls on both sides allow total immersion with the beauty of the view.
SMALL GARDEN ROOM
A pretty garden room that blends seamlessly with the architecture of the cottage it belongs to. This view from Louise Jones' garden back towards her house shows us just how a West London home can have all the charm and comfort of an English country cottage.
WOODEN WRITER'S SHED IN HACKNEY
This alluring writer's shed in Hackney, east London, was designed by Surman Weston architects for a client who loves children's literature and mythology. Partner Percy Weston explains that it 'was conceived as a haven in the city; a fairy-tale hut at the bottom of the garden, where the client could retreat and immerse himself in his work. The back-lit cedar façade, shingle cladding, log store and wood-burning stove were all intended to play a part in creating this world. The offset pitch of the roof allowed for a large north-facing skylight; flooding the workspace with natural light.' At 3.8 x 4.5 x 4.2 metres, it would not have needed planning permission if it had not been so close to the neighbour's boundaries.
020-7635 6554; surmanweston.com
Taken from the May 2015 issue of House & Garden.
GARDEN STUDIO
Resisting the idea of moving or expanding into the basement, the owners of this London house gave architect Maria Speake the go-ahead to make some structural changes to give their family and business the space needed. Henrietta Courtauld is one half of the Land Gardeners, the duo run their cut flower business from Wardington Manor in Oxfordshire.
Henrietta's garden shed is also her studio. Yew balls surround the main bed, which is planted with vegetables, Melianthus major and Hydrangea arborescens 'Annabelle'.
WEATHER-BOARDED STUDIO
Outside Sarah Stewart-Smith's Herefordshire Cottage, an unused outbuilding was transformed into a stylish weather-boarded studio which looks just like a barn when closed. When open, inner glass doors give natural light to the space, a library of materials, finishes, piles of samples and paints.
Garden Shed Ideas
Green English Garden Shed
This small green gabled garden shed made out of wood is the perfect addition to any backyard or English garden. The wood door is reinforced with Z-pattern boards and the lighter colored interior and accent colors set off the deep garden green. This is a simple, straightforward design with just enough room to hold all of your lawn and garden tools.
Large Double-Door Garden Shed
This large double-doored garden shed is the perfect choice to hold all of your tools or to create the perfect potting shed. It's also big enough to be used for extra storage, an office, or a workout room. This decorative shed has a shingled roof, windows with attached flowerbeds, and two doors to allow maximum room for moving your things in and out.
Gabled Garden Shed with Porch
This shed would make a lovely addition to any backyard. It's adorably cute with its shingled roof, trimmed door and windows, and a little porch. This would be the perfect shed for storage, a playroom, or backyard getaway. A shed like this can be built with the purchase of lumber and tools, or you can order a kit and then add the porch and decorative trim.
Gray Garden Shed with Large Barn Door
This gray garden shed with a large barn door is the perfect place to store all of your lawn and garden tools. This simple gabled shed sits on a cement slab and has gray trim around the door corners and fascia. This is a fairly simple and affordable storage option.
Tall Gray Storage Shed
This tall gray storage shed is more like a storage cabinet. It's set off with white trim and has windows on the sides. This is the perfect spot to store all of your lawn and garden equipment, along with whatever else you'd like to protect from the elements.
Beautiful Antique Garden Shed
This gray-blue colored garden shed looks like a quaint little house. It has a gabled roof with shingles, windows with shutters and flower boxes, and a large door on the side. This would be the perfect potting shed for even the most ambitious gardener.
It also leaves extra room for storage and is pretty enough to use as a playhouse, hideaway, or an extension of your living space.
Dark Stained Wood Garden Shed
The dark stain on this wooden garden shed makes it a beautiful addition to any backyard or garden. It's set on a brick foundation and has a wooden floor, as well as a large door which allows tools and other garden supplies to be easily taken in and out.
Wooden Gabled Garden Shed
Here is another natural wood-colored garden shed. This one is gabled with a shingle roof and a side door with a window on each side. The natural wood blends perfectly with the lattice fence and pergola gate.
A great thing about this shed is that it will last for years and the weathered wood will only look better over time. This is a beautiful backyard addition.
Large Gray Shed With Patio
This large gray shed has double doors with glass windows on top. It also has a window on the side and is extra wide for a lot of storage. What sets this shed apart and makes it look extra cute in the garden is that it has its own patio with a table and sitting area.
Large Red Shed
This shed is similar to the one above. The door and window configuration is a bit different, but what makes it really stand out is the bright red paint job with white door and window accents. This shed can serve as another room to your home or a huge storage option.
Modern Shed Designs
Modern Double Garden Sheds
Here are two modern-looking garden sheds using the lean-to style. Lean-to sheds are a simple and easy way to create extra storage space. This clever design has one shed with a large double door that can be used for the lawnmower and garden tools.
There's an additional shed right beside it with windows all along the front and a door on the side. The second shed can be used as a potting shed and work area with pots, flowers, and a table for planting new spring blooms.
Both sheds are finished with a deep dark brown stain. This simple design creates a modern, dramatic look.
Gray Lean-to Storage Shed
Here is another lean-to style shed with double doors on the front. Creating a large storage shed using the lean-to design creates a dramatic, modern look at the edge of any garden. Window doors and light paint set off the look.
Sleek Modern Dark Gray Storage Shed
This upscale storage shed is simple, yet has a dramatic dark color and white trim. The double doors open up to plenty of storage space to keep your main living area free of clutter.
Rustic Shed Ideas
Rustic White Storage Shed
This rustic white storage shed has a fiberglass roof to keep the rain and elements away from the door while you're moving your items in and out of the shed. Even though this shed is old and weathered, it looks beautiful against the lovely green backdrop of the fields and orchards.
Weathered Garden Shed
Here is a weathered garden shed tucked in the back of the yard near the fence. The weathered wood and gabled roof look lovely offset with the nearby climbing vines. A gravel foundation and potted plants create a whimsical backyard garden.
Shed With Moss Roof
This lovely shed looks like it's sitting in the woods. It's made with stained wood, a cute window with shutters, and a double door with a ramp for your lawnmower or tractor. The moss roof looks lovely against the green backdrop.
Moss roofs are interesting because they do look lovely, but if they aren't intentional they could damage a roof. Many homeowners try to prevent moss from growing on their roofs to avoid costly roof repairs down the line.
There are also moss sheets that you can apply to a roof on top of a waterproof membrane for the look of moss without any of the damage. The roof on this small shed probably wouldn't be that expensive to replace, and the moss does look pretty in front of the trees.
Weathered Gable Shed
This old wooden shed has withstood the test of time. It's still doing what it's supposed to do in spite of the years, the shrubbery, and the elements. A shed that ages with your garden will look amazing for years to come.
Pretty Blue Antique Shed
This antique shed has weathered blue paint and a window. It's adorned with bird feeders and a heart on the door and has a little hedge in front of it blending in perfectly with the rustic setting. This is a cute storage shed which could also be a reading nook or secret hideaway.
Tin-Clad Shed
This rustic woodshed with large double doors is clad in tin. The tin is weathered and has taken on a purple colored sheen. This shed truly is rustic because it is an abandoned shed in the ghost town of Bodie, California. Only history knows what was stored in this shed many years ago.
Upscale Stone Shed
This large stone shed could even be used as a small garage. It's built out of beautiful stone with wooden doors and accents. The long, gabled roof is made from wood shingles. This shed would look perfect on an estate or rustic property.
Tin Boat Shed
Who says your shed has to be on land? Here is a tin boat shed in New Zealand. The weathered tin will last for years as it protects generations of boats from the harsh elements of sun, wind, and water.
Weathered Blacksmith Shop
This old shed was used as a blacksmith shop. The tin structure is rusty and weathered but has withstood the test of time. It has a large front window and porch and a welcoming rustic look.
Tiny House Or Office Sheds
Red Shingled Shed
This cute shingled shed could be a garden shed, storage shed, or office space. The gabled roof has wooden shingles, and the siding of the little house has shingles painted red with a cement porch, and cute door and window. This adorable shed looks like a little house.
Traditional Red Swedish Shed
This cute little shed looks like a tiny house. It has a tin roof, white shutters, the exterior is a traditional Swedish red with a blue accent door, and a little, fenced porch. This could make the perfect office hideaway or cute little storage shed.
"He Shed", "She Shed"
"She sheds" are real. This is an adorable example of a tiny "He Shed" and a larger "She Shed" being used as a portable storefront. This is a perfect example of how a shed can be used for any purpose that your imagination dreams up.
Beautiful Blue Shed
This cute blue shed has a gable overhang with a decorative fascia over the front door. It also has a poured cement porch with a lounge chair and potted plants. This is the perfect example of a shed that can be used for more than just storage.
Swedish Friggebo
Friggebo is the Swedish word for a shed. A Friggebod is a tiny house that doesn't need any zoning permits. The red color is a traditional Swedish red used to paint houses and cottages, based on the original Falu Red used in 17th and 18th century Sweden.
Besides the multicultural history lesson, this is the perfect mixture of a ubiquitous shed that can be used worldwide for any purpose you can conjure up.
Garden And Wood Sheds
Stained Wood Garden and Woodshed
This is a clever example that combines a garden and storage shed with a woodshed. The dark, stained wood conceals a beautiful shed with a swinging door and window. On one side there's a useful storage area for wood.
Small Shed With Wood Storage Area
This small, gabled shed is made from natural wood and has a sloping structure on the side to store wood and protect it from the sun and the rain. This is a simple, yet useful structure that looks great.
Garden Sheds With Greenhouses
Blue Garden Shed With Attached Greenhouse
What would make more sense than having your greenhouse attached to your potting shed? This is a perfect example of a cute little blue garden and potting shed with an attached greenhouse.
This uses a custom design with a tin roof on the shed side and a glass roof on the greenhouse side. Everything is painted in a bright aqua color and white trim rounds out the classic look.
Shed and Greenhouse
Here is a perfect example of a simple garden shed with a greenhouse next to it. Both structures are simple, yet look really great in the yard. They also serve two distinct purposes for the ultimate in backyard gardening.
Barn Shed Ideas
Gambrel Roof Shed
This gray, barn-style shed with a gambrel roof has a rock foundation and a ramp for easy access for lawn mowers and lawn tractors. You can purchase a kit to create a large storage shed like this or build it with your own materials using simple plans.
Red Barn Shed
This open gable shed has large barn doors and is painted barn red and has a ramp for easy access for people, tools, and equipment. This is a simple and cute shed that you could put in any garden or outdoor area.
Shed Organization Ideas
Garden Shed With Shelves
This garden shed has a wooden floor and a bright white interior. It has shelves for added storage organization and hooks for small and large garden tools. This is the perfect example of a neatly organized and roomy garden shed.
Natural Wood With Hooks for Storage
Here is the inside of a natural-wood shed with plenty of hooks for garden storage. You'll never have to search for tools again with everything neatly displayed and accessible. This also has a wooden floor for a rustic appearance, and easily maintained style.
---
A Tinker House
This potting shed, or Tinker House, as owner Donna Reyne at Tinkerhouse Trading Company calls it, is small, but full of light and the perfect spot to start some seeds or repot a plant. The pea gravel and pavers make a clean, dry entryway as well as the perfect spot to add a few containers and even a raised bed. It's the little details in the carving of the wood and the arch of the windows that make this house so elegant.
Storage and Style
Look closely in the windows of this garden shed and you will see it is packed as tightly as it possibly could be. There is never as much room in your shed as you think there will be. As long as you garden, you will keep finding things that need to be stored in there. But this pretty little shed, captured by Naughty Architect on Flickr, with its front porch and picket fence is doing exactly what it was designed to do and the gardener has had no trouble finding a rake to gather up leaves. Once the fence behind it ages a bit, they will blend together beautifully.
Customized and Practical
Hardcore gardeners sometimes like the ability to keep their tools and mess out of sight. If that's you, take a look at what Charlene, at Organized Clutter, did with customizing this shed from one of the big box stores. The bright green hedge is the perfect foil for the weathered gray paint color and the galvanized steel planters keep the color scheme going. You can make any pre-fab shed your own, with a bit of paint and elbow grease. The latticework at the bottom of this shed suggests it is on a raised foundation on top of a dry and level layer of pea gravel. This is a garden shed that is meant to do work and last for years.
Potting Station
If you are only using your garden shed to store tools, light is not crucial. However, if you want to create a spot to linger and fill it with plants, you will want as much natural light as possible. 
Cindy Gardner, at the blog French Gray, has set up a beautiful spot for potting up new plants and watching them grow. The multi-paned windows provide plenty of spots to display pots where they will be in easy reach when needed. The vines, inside and out, blend the outdoors with the interior of the shed.
Rustic Red
There are no rules saying your garden shed has to blend in with the scenery. This rustic red shed stands out but in a good way. There is so much decorating the exterior of this shed, it almost looks like someone's home. FotoGuy 49057 posted this shot on Flickr and it is full of details. The bird bath must get good use, with all those birdhouses near the door. This shed is conveniently placed right next to the garden, with tools and supplies in easy reach. You can see the gas can that is tucked in amongst the border. The Hostas anchor the shed without adding more maintenance. 
Open Air Shed
If you have the weather for it, an open-air shed structure can certainly serve as a garden tool shed. Everything is easily seen and accessible and you've got to admit, the light is wonderful. This little potting nook was photographed by brewbooks in a small Seattle garden. It is positioned right in the garden, with pots, soil, and tools in easy reach when needed. The plants growing in and around it make it seem like a part of the garden.
Rustic Elegance
Sometimes you want more than function. If your garden is your sanctuary, you need a garden shed that will allow you to luxuriate in it. This gorgeous garden house was designed for a client by Kim at Living Vintage. With the rockers on the porch and a potting table on the side brick patio, you don't even need to go inside, but that's beautiful too. This shed is made from reclaimed material, which would be very easy to duplicate at home if you've got a source for reclaimed bricks, old, perfectly peeling boards and some discarded windows. Start collecting.
Plenty of Storage
This garden shed is as beautiful as it is practical. Kevin, at The Nitty Gritty Dirt Man, walks us through how he created this 10 ft. x 10 ft. storage shed. He's made sure there is room for all the necessities in there, with shelves, drawers, a potting table and even room for the lawn mower. There's a radiator for heat, although those slanted windows must do their share to keep the shed warm. There's nothing like going into a potting shed in late winter to start some seeds and get a whiff of wet soil. 
Gingerbread Garden Shed
Hanzel and Gretel might just show up in your garden with this whimsical garden shed. Carol, at The Gardening Cook, share a collection of whimsical garden sheds but said this was her favorite. The care taken to make this house suggests the gardener has small children or grandchildren. What a wonderful way to get them interested in being in the garden. You may not have the skill or patience to create something so ornate, but you can still be whimsical with paint colors and ornaments. It even gives you permission to be slightly unaligned.
A Shed the Neighbors Could Love
We don't all garden on acres, but we still need storage. We also need a garden shed that won't be an eyesore. Melissa J. Will, aka The Empress of Dirt, shows several garden shed makeovers on her blog. This crisp gray shed with the brilliant blue door looks so inviting, the neighbors just might visit. We're not privy to what's stored inside it, but Melissa tries to use what she already has at hand to decorate it. If you picked up a garden gate and still haven't found a use for it, check out what a great focal point it makes on the front wall.
Sleek and Clean
These days sheds are as likely to be places to relax as they are places to grab a tool or pot up a plant. There's no saying you can't do both. Pure Wow's clean, modern she shed is set up for catching some rays and overseeing the lay of the land, but there's still a desk inside for getting some work and potting done. If rustic does not fit your style, create some clean, clear space with a wall of windows and plenty of seats in the sun.
DIY Four-Door Shed
Looking for tool storage that is attractive but won't take up too much garden real estate. This clever shed is made from four salvaged doors and features shelves and hooks inside. The storage belies this sheds size. You can find the easy instructions on The Owner Builder Network's site and have this shed up and functioning in a weekend.
---
If you feel like stuff is starting to pile up in your home and you need to get some things out but you don't want to get rid of them completely, perhaps it's time you had your own storage shed out in the backyard. Nothing too big or complicated, just a small storage shed where you can keep your gardening tools and supplies and maybe a few other things as well. Turn this into your next DIY project and check out some of these ideas if you need inspiration before you get started.
If you already have a storage shed then perhaps you can use this opportunity to customize it a bit and make it more storage-efficient. Perhaps you could hang more shelves, add hooks or hangers or replace existing features with something better-suited for your own storage needs. You can find a few ideas on thecavenderdiary.
There are several steps you need to follow once you decide you want to build your own storage shed. You need to create a plan and to sketch your design, to decide what materials you want to use, then to prep the ground, add the foundation and then build the frame. As you can see, there's a lot of prepping to be done so be sure to check out this tutorial from imgur for more info.
Isn't this little wooden shed adorable? It looks like a miniature house with a door and no windows. It even has a pitched roof. This is a small shed which doesn't need a foundation so you can just a pick a spot and start building it. At the end you can paint your new shed and make it look even more beautiful. You can help it blend in or stand out, depending on the rest of your backyard decor. Check out instructables for more details regarding the building process.
Obviously if you need more than just a tiny shed that's entirely possible too as long as you have the space and resources. This one was a project by Joseph Sandy and it looks amazing, with those patchwork wooden walls and the corrugated metal roof. We love the space at the top which light and air inside the shed.
A small storage shed can turn out to be surprisingly space-efficient if you know how to organize it. You can use it to store everything that's currently cluttering your garage, including bikes, sports equipment as well as gardening tools and other stuff. As far as the design and everything else is concerned, that's totally up to you to decide what's best for your backyard. Personally we enjoy this shed featured on instructables, specifically the little windows.
If you're envisioning your storage shed like a simple wooden box with doors, that's entirely ok too because it would actually be a very practical design option. You can find the shed plans on ana-white along with instructions so check out this project and feel free to add your own personal touch to the design.
Here's an even smaller version of the shed we just mentioned. As you'll notice from the tutorial shared on ana-white, building a small storage shed such as this one is actually fairly easy. Your shopping list includes 2 sheets of plywood, some 2 by 4 boards, gate-style hinges, 2 handles, a latch, roofing material and wood for the doors. You should also add to this list everything that you plan on customizing the interior of the shed with.
A small shed can be more than just a little box-like space where you can keep your garden tools. You can also turn your shed into a garage for your motorcycle or your bikes. Think of it like a miniature house in your backyard. You can give it doors, windows and even a garage door and a ramp. A lot of what we're describing can be found in the design of this modern shed featured on diyatlantamodern.
On the other hand, if all you want is a tiny garden shed, there's no point in exaggerating with the design and making the shed bigger than it has to be. Check out this wooden structure made of teak wood, featured on frontgate. You could definitely build something like this yourself but it's nice to good that there are also ready-made options such as this one.
Although that's usually the case, a garden shed doesn't necessarily have to be all closed off and built like a wooden box. You can give your little shed windows, a glass door and even skylights. Check out this quirky design featured on acultivatednest. It looks like a small green house so it could potentially also hold a few plants if needed.
Another very cool idea is to give your small storage shed a green roof so it looks nice and also so it blend into landscape in a beautiful way. It's even cooler if you build a low shed, sort of like an outdoor storage unit. This one seems like an awesome choice. We found it on pinterest.
This isn't exactly a storage shed but the design is inspired by one and we find it very interesting and inspiring. This thing is a sort of cover, a mini open shed for the trash bins which actually makes sense if you want to keep your yard clean and organized and you also don't want the trash to ruin your view. Check out fixundfertighaus to find out how to build something like this yourself.
If you want you can treat your small storage shed as an extension of the house and make it look like a sort of exterior pantry. This idea came to us while seeing the shed featured on finehomebuilding. We love how seamlessly it blends in and how natural the whole structure looks. The shutter doors are also super cool.
If you decide to physically connect your new storage shed to the house and treat it as an extension, you have the wonderful opportunity to give the shed a rooftop terrace which you can access from inside the house. This is one of the most awesome ideas we encountered so far and it comes from panofish. It applies to all sorts of different types, whether it's a metal shed, a wooden one or even a prefab cabin that you have in mind.
A nice and simple way to make your small storage shed stand out is to give it a barn door and to paint it in an eye-catching color. Check out this bright white and red combo and that lovely little shed sign. This could be your next DIY project so if you like it check out the youtube tutorial to find out more about it.
There's also a lot you can do to give your existing storage shed a makeover. You can stick with the basics such as painting the exterior of the shed to make it fun, colorful and also trendy. Also, it could be nice and fun to add a few accent details such as window planter boxes or perhaps window shutters, a new door, a new roof color, etc. Let this beautiful green shed featured on mysweetcottage inspire you.
Plastic sheds
Looking for an easy solution? Forget about all those DIY wooden sheds and check out some of the following plastic storage shed options. It's easy to install, durable thanks to the multi-wall resin panels, versatile and practical. Its roof is actually a lid which you can lift with ease and the doors can be locked for increased security. You can find this shed on Amazon.
The Keter Manor outdoor shed is another great option. It's fairly large and made of polypropylene resin plastic reinforced with steel for increased durability. It has a wood-like texture which gives it a charming and at the same time versatile look, one which would look beautiful in any backyard or garden, especially with this choice of colors. 
For things like garden tools, construction tools and even bikes, a simple storage shed like the Suncast BMS7400D Cascade model would be just right. It has a sturdy, reinforced floor, strong and durable walls, lockable doors with small windows and pitched roof which gives it a cute appearance. The choice of colors is also lovely and well-suited for garden spaces.  You can customize its interior to suit your storage needs. 
This is the smaller version of the Keter Manor shed we mentioned a few moments ago. It's a 4 x 6 ft shed with a narrow footprint. It's made of polypropylene resin plastic and steel and it has a wood-like texture. The small window lets you see inside without having to open the door and the pitched roof is high enough for an adult to fit inside comfortably. The walls and door are gray with white outlines and the roof is black, a combination that's simple and very versatile. Check out the shed on Amazon.
Wrapping Up
A shed is an amazing addition to any area. It can be made out of any materials, and the more rustic the better with today's design tastes.
You can use your shed for storage or as a place for tools, but you can also get creative by making a yoga, art, or craft studio in your shed. Additionally, sheds can be used to store bikes, outdoor game items like a bocce ball set, canoes, or things you want to protect during the winter like a smaller-sized trampoline.
You can customize it with painted shutters, antique doors, outdoor furniture, cute signs, rope lights, or whatever you can dream up to make the perfect shed for you. Hopefully, you were inspired by these shed ideas and can begin working on transforming your yard!