For those that have bricks from previous projects around their home, or are simply able to get them at a cheap or affordable price, carefully stacking them on top of each-other and changing angles creates a pretty nice DIY backyard fire pit design.
Creating an 'in-ground' fire pit is a great way to protect your hard-work investment from weathering, as it'll be easier to close up and put the fire out when you're done. It's also a great solution to protect your fire and enjoy your cooking or it's glow during those windy nights.
Match It to Your Seating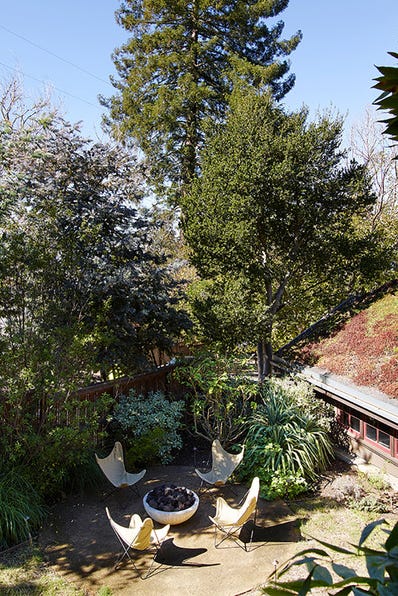 For a a modern yet rustic feel, opt for a concrete basin in the same color family as your seating. The freestanding bowl shape has a nice floating effect. Or choose something a little more modern, like a stainless steel fire pit with interlocking panels. Then just add a few butterfly chairs and call it a day.
Make It Cozy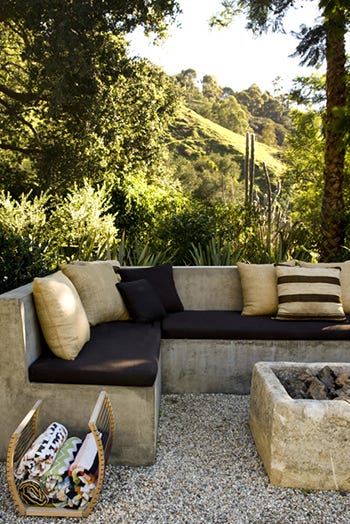 A built-in seating nook is inherently cozy no matter where it is—add an outdoor fireplace, and you've struck gold. This California backyard designed by Alexander DB is modern, intimate, and down to earth all at once, thanks to the use of raw materials and neutral hues.
Hang String Lights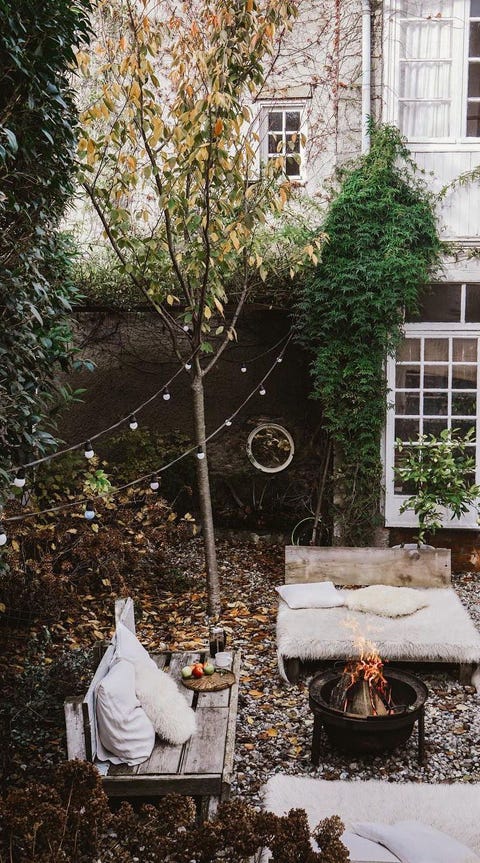 It doesn't take much to make a backyard feel magical, no matter the size. Even a small city patio can transport you elsewhere if you hang romantic string lights. Rustic wooden furniture becomes cozy when surrounding a fire pit and layered with pillows and sheepskin throws. If you have a smaller yard, opt for an enclosed fireplace. You can also take it on the go to a friend's place—the party goes wherever you are!
Stick to the Basics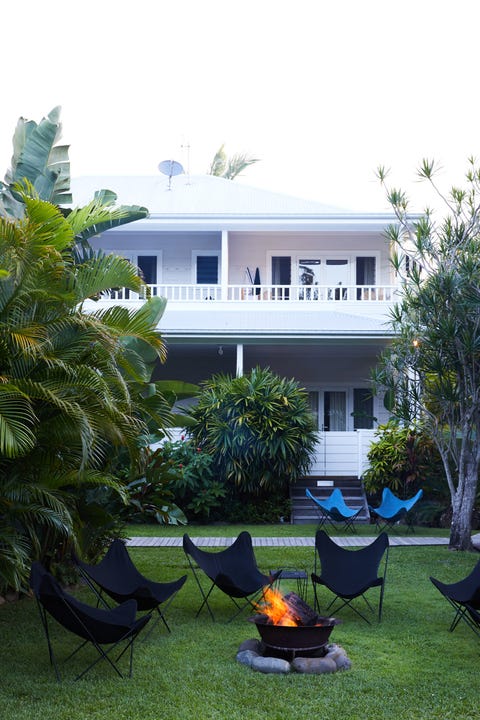 If you just want a fire pit that feels low-key and inviting, a classic cast iron bowl will do the trick. These black canvas butterfly chairs are a great alternative to white, too, if you prefer an edgier vibe on the lawn. Case in point? This fire pit hang out area at the Atlantic Byron Bay hotel.
Enclose It With Rocks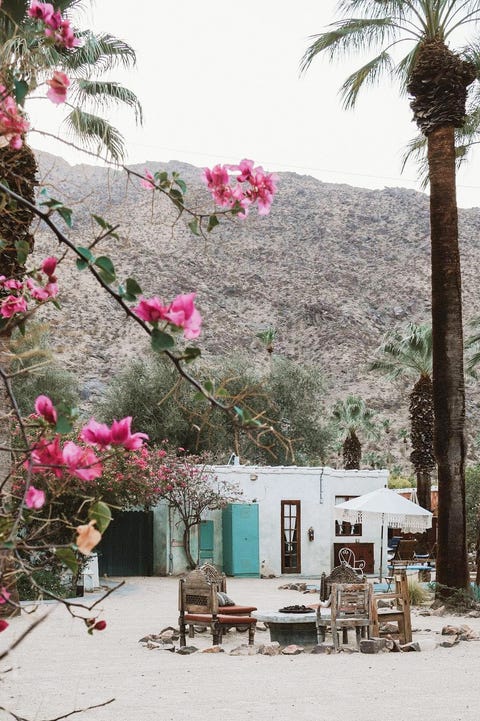 To make it feel like a special area, set it apart from the rest of the space by enclosing it with a border of rocks. If you love the rustic look, opt for a round cast iron fire pit bowl in a terra cotta hue.
Channel a Campfire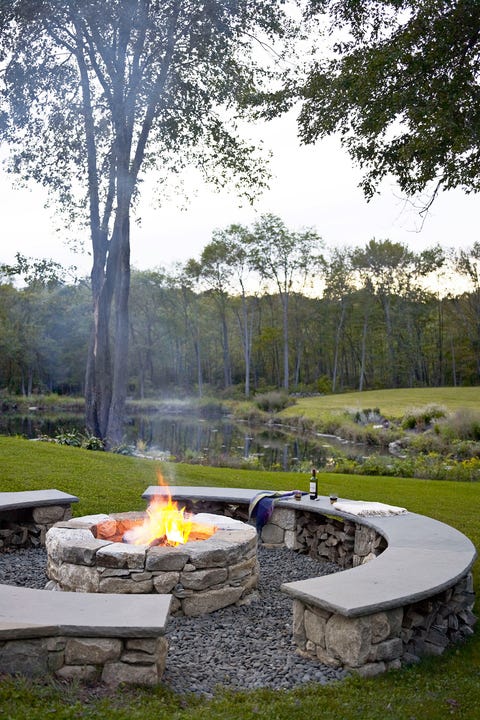 For her Connecticut property, designer Bonnie Edelman created this outdoor feature as a gathering place for friends and family. Designed with storage in mind, speakers are hidden in the walls of local stone, and logs are stacked under the benches. If stonework is your thing, this round, brown stone fire pit would be a perfect addition to your backyard.
Make It Minimalist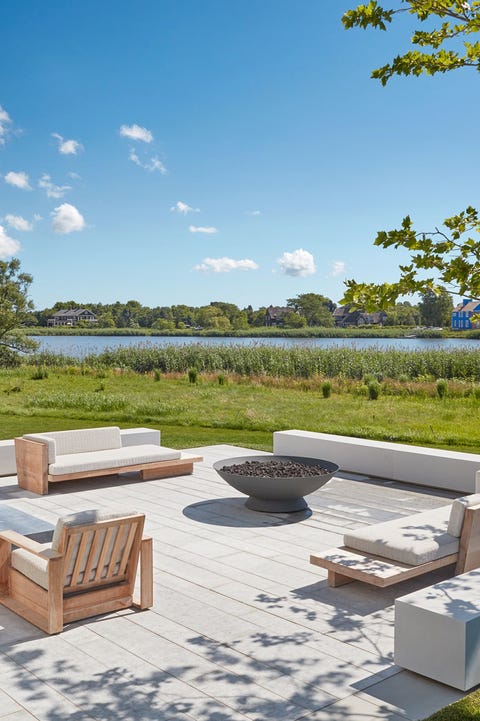 This open basin cast iron fire pit is so simple and yet, so stunning — the perfect addition to any backyard. Classic white patio furniture and a minimalist deck designed by Hollander Design allow us to focus on the real stunner: that waterfront view.
Lay Tiles Under It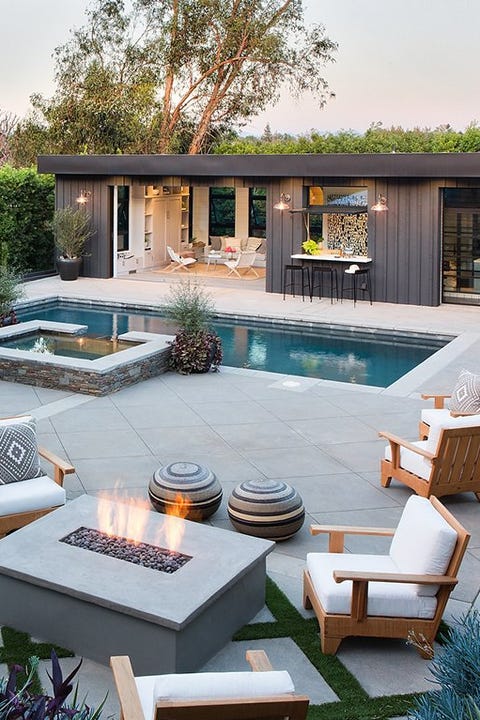 A square or rectangular fire pit made of concrete has an industrial edge to it. We love how this designed by Studio Life.Style one speaks to angular shapes throughout the yard, from the pool to the poolhouse, ceramic tiles, and chairs.
Give It a Backdrop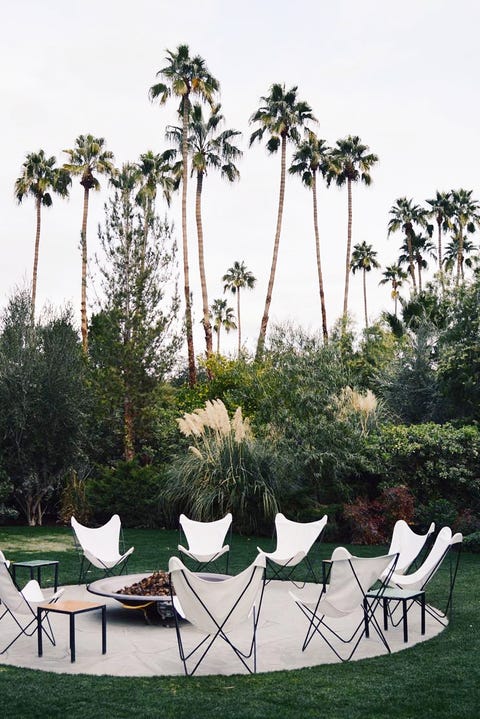 Leave it to the Jonathan Adler-designed Parker hotel in Palm Springs, California to create the perfect outdoor fire pit situation. At the center of the circular tile island in the middle of the lawn, all eyes will be on the roaring fire. The surrounding butterfly chairs introduce a laidback, SoCal vibe, which is further accentuated by the tall palm trees and dreamy pampas grass.
Keep Storage in Mind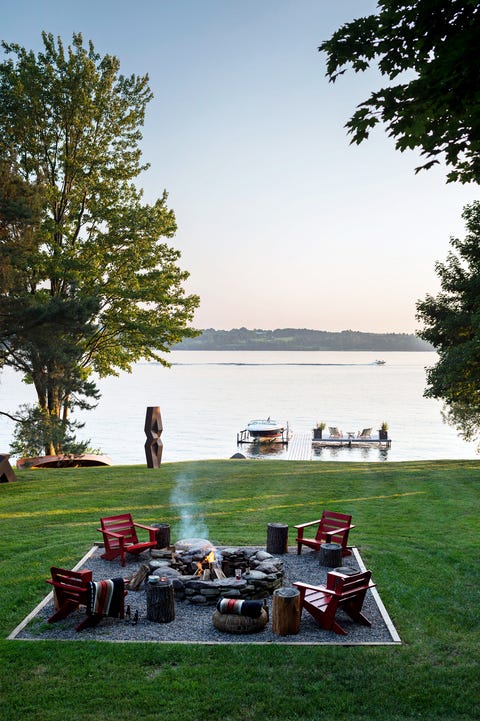 Just looking at the incredible view in Thom Filicia's yard puts you in a more relaxing frame of mind. If you have a large lawn, consider building a fire pit hangout zone in the middle of it. If you're working with a smaller space, consider a round stone fire pit that also doubles as a surface space to rest your drinks.
Build Into the Ground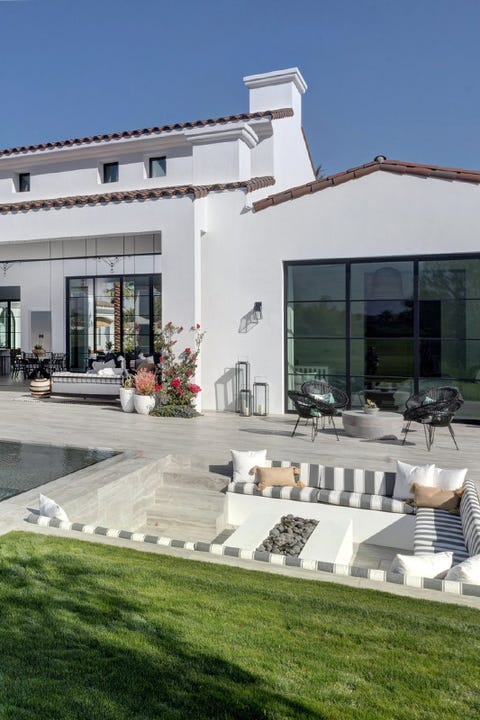 This recessed lounge area designed by Studio Life.Style feels like a romantic, relaxing space to unwind in. Because it's sunken, it feels private and separate from the rest of the space. A rectangular fire pit is the perfect thing for a square sitting area. Opt for one that doubles as a cocktail table so you don't have to take up space with side tables when you're eating and drinking al fresco.
Lead Us to It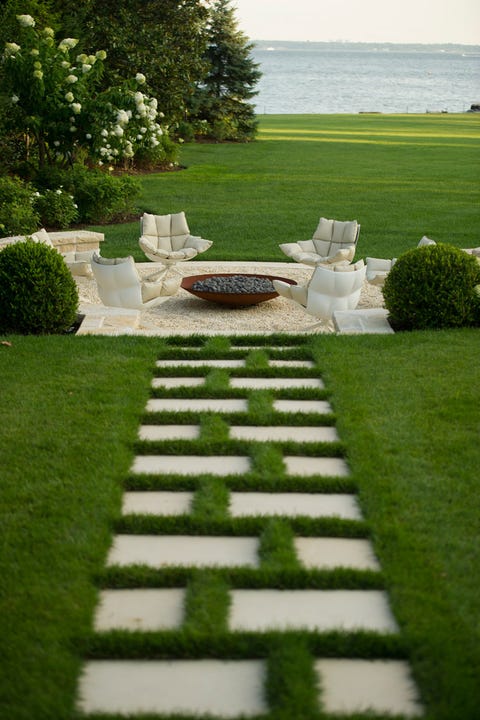 All eyes are on this fire pit, thanks to the hypnotizing pathway that leads us there in this backyard designed by Janice Parker Design. The shape of the chairs mimic the soft rounded edges of the fireplace and rounded stone enclosure separating the circular patio from the rest of the lawn.
Have Fun With It
Surrounded by comfy, eclectic seating, this fire pit area is the perfect backyard retreat. Add a rocking chair (in a pop of color if you're feeling bold!) and floor cushions for extra seating. For another fire pit option that strikes the balance between bohemian and formal, try a hammered copper fire pit.
Get Graphic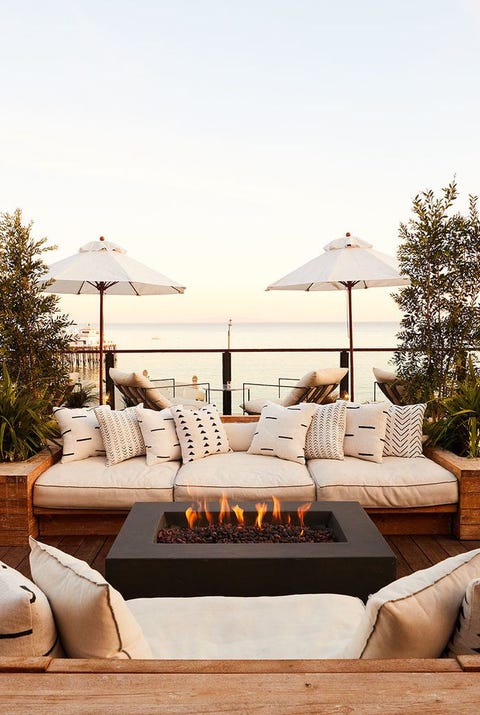 The Surfrider Hotel roof deck in Malibu is the best outdoor space inspiration we've seen in a long time. Take style notes from the sleek and simple matte black fire pit surrounded by spacious sofas with contemporary graphic throw pillows piled on.
Forget About Grass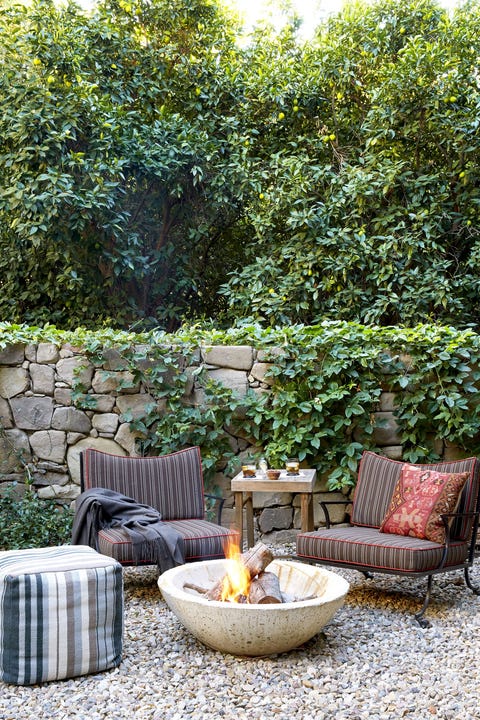 Now here's an outdoor fire pit idea we can get behind. For an Ojai vacation home, a laid-back seating area fits the no-hurries, no-worries vibe. The fire bowl warms up the courtyard during cooler weather. And the gravel ground gives it an interesting rustic feel.
Small Rustic Fire Pit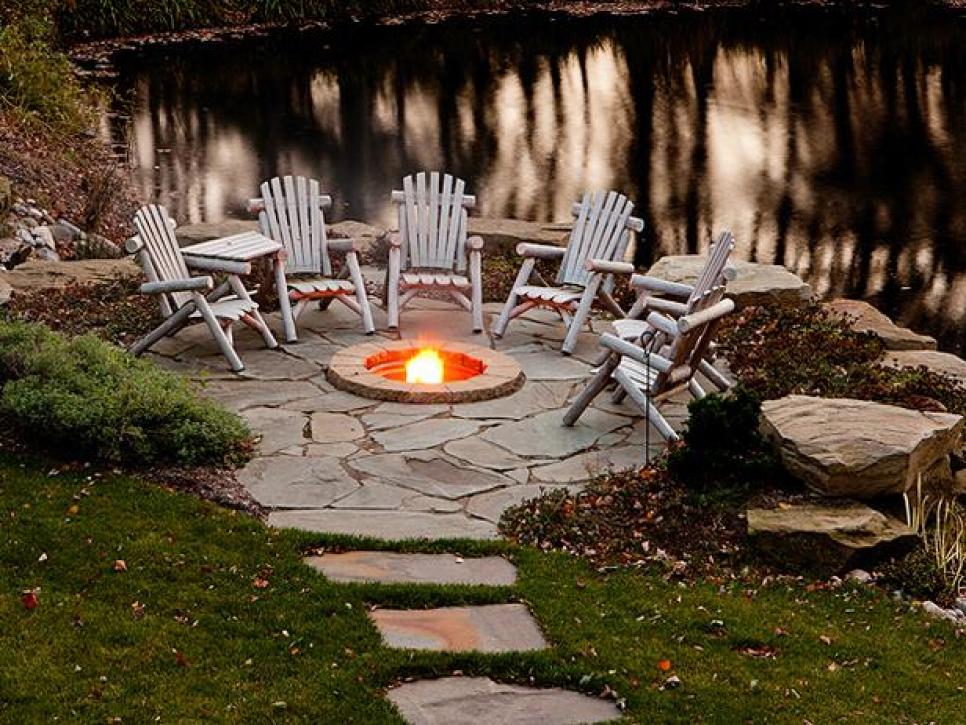 A small fire pit embedded into a stone patio and circled with wooden chairs creates a rustic feel.
Cozy Circle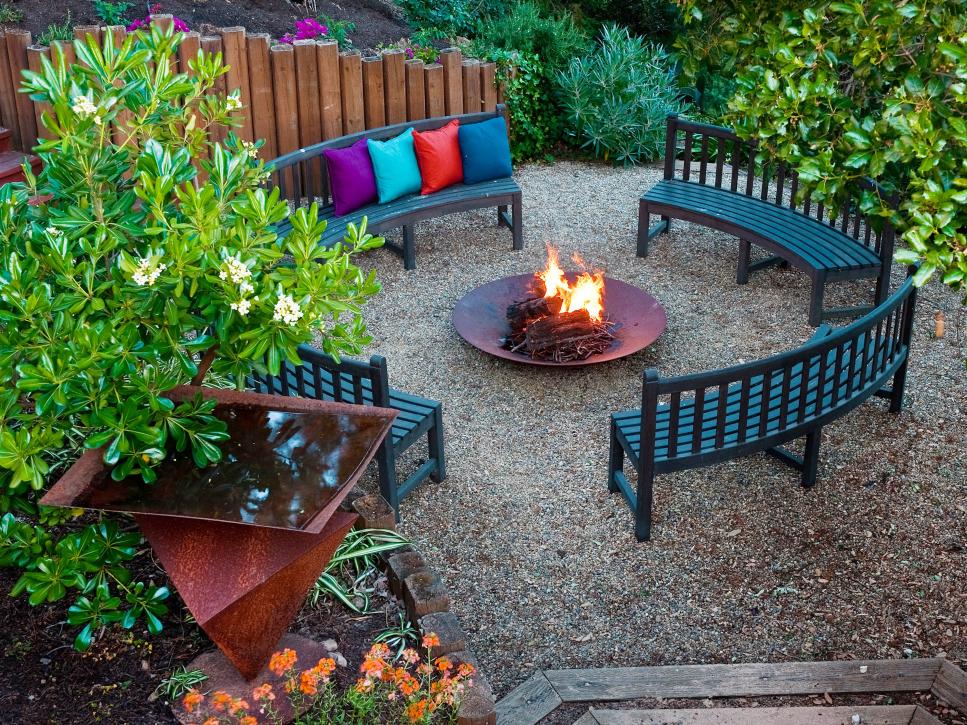 This fire pit creates a warm focal point for an area with benches arranged in a cozy circle. The outdoor fabric used in the pillows repeat the garden's colors.
Fire Pit Under Arched Veranda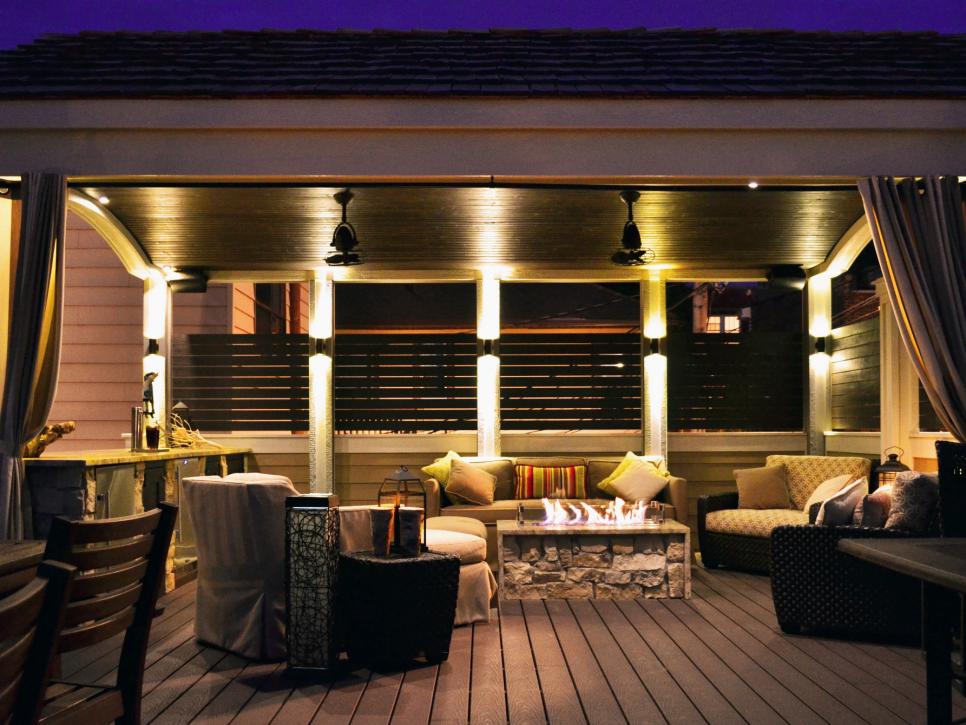 A rectangular fire pit under an arched veranda highlights this rooftop design, which also includes a built-in bar with a kegerator, lounge seating and low-voltage lighting.
Fire Trough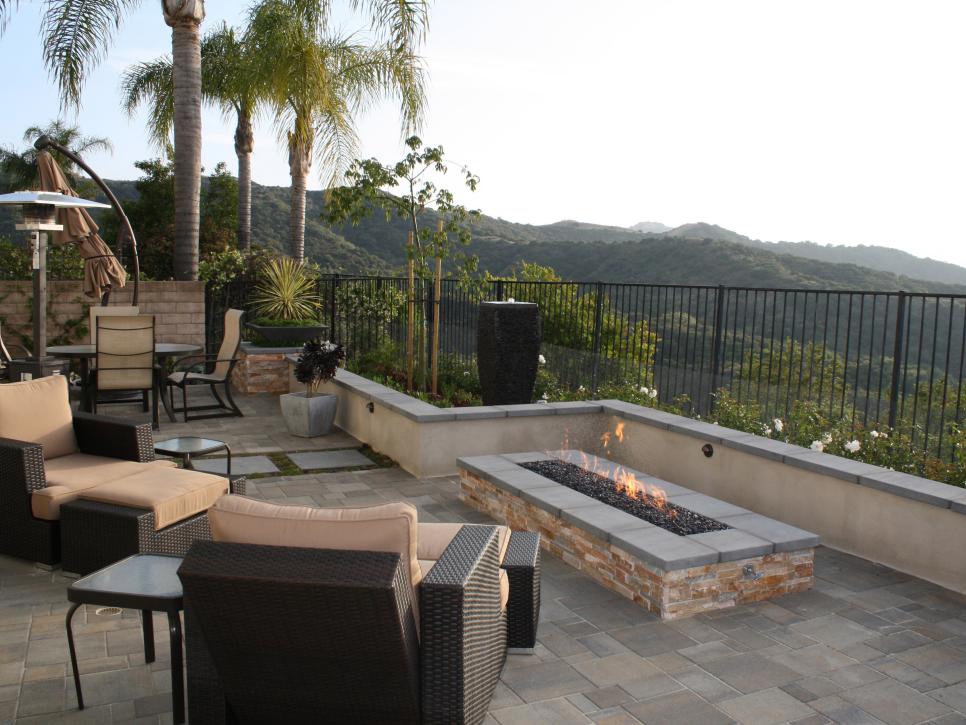 A 6-foot long fire trough will keep guests cozy while they enjoy the stunning views from this patio.
Custom Fire Pit and Table
This custom combo table and fire pit, crafted from natural stone slab with wood and steel accents, make cool-weather dining and entertaining more comfortable. 
Fire Pits Enhance Patio Entertainment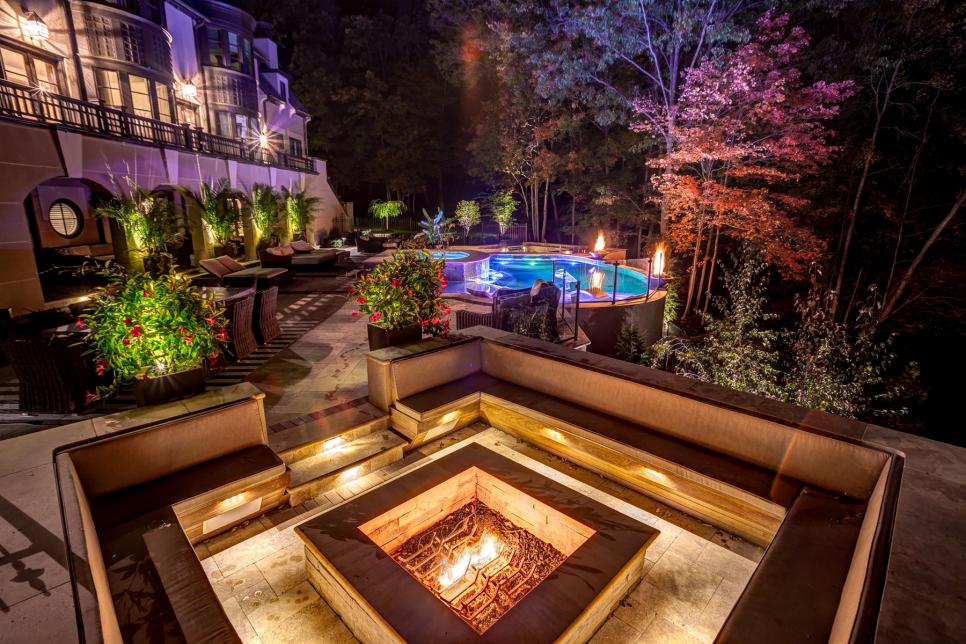 Fire pits are classic porch heaters that allow homeowners and guests to safely enjoy the heat of wood fires outdoors. They are designed to keep small fires burning for hours while safely containing flame and embers.
Creating a Look Around the Fire Pit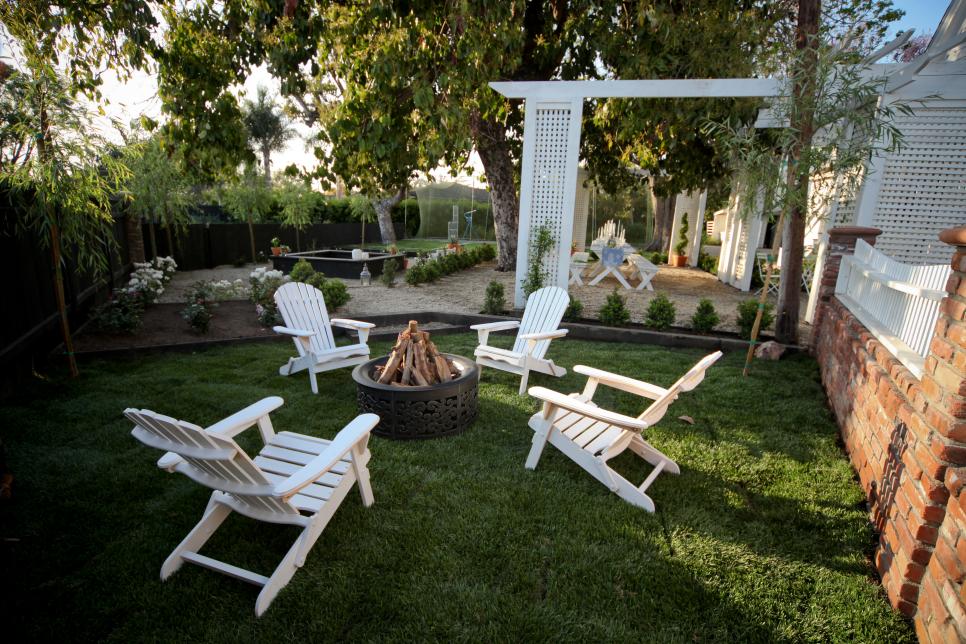 Finding furniture to suit the look of your fire pit and backyard is important. These classic Adirondack chairs work well and give graphic punch to this pit. 
Antigua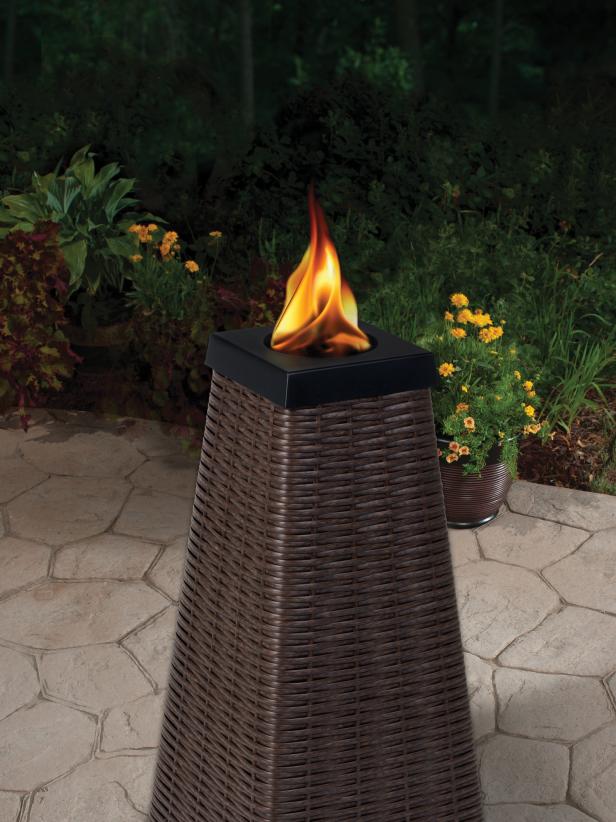 Described as fire sculptures, the Alumina line from TIKI allows you to bring fire to a patio or deck. The basket weave pattern of the Antigua is actually weather-durable resin. www.tikibrand.com
Fire Pit in an Adobe-Style Hacienda
A fire pit adds atmosphere to an outdoor area of this historic 1920 John Byers U-shaped hacienda set in the Santa Monica Mountains in the Pacific Palisades Riviera. 
Fire Pit With Pool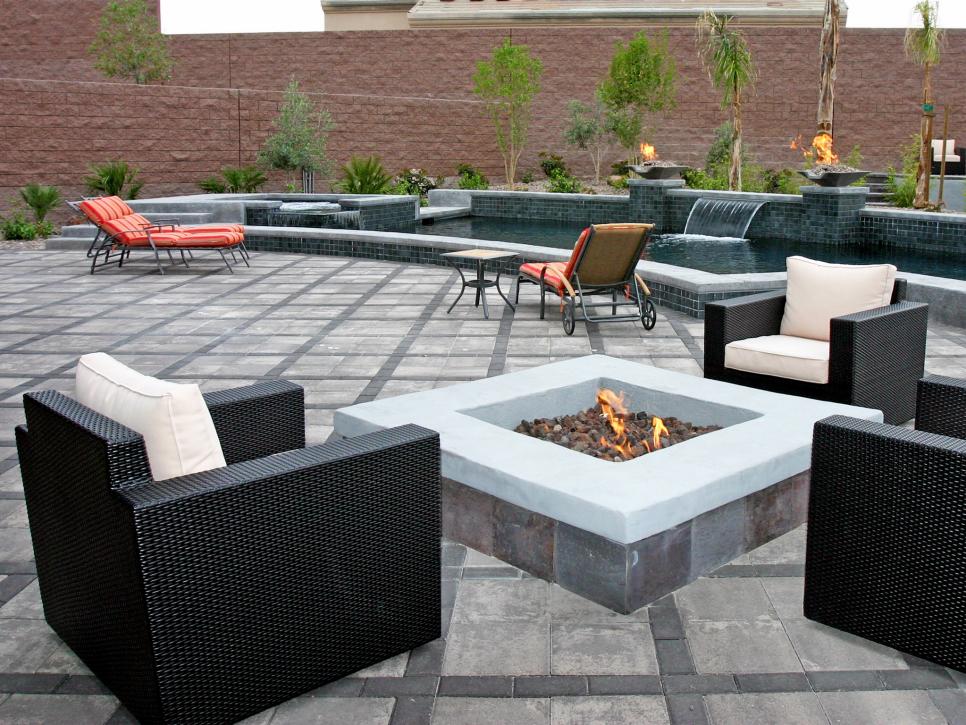 In this design, a fire pit combines with a crescent-shaped pool to provide relaxing lounge space. 
Brick Fire Pit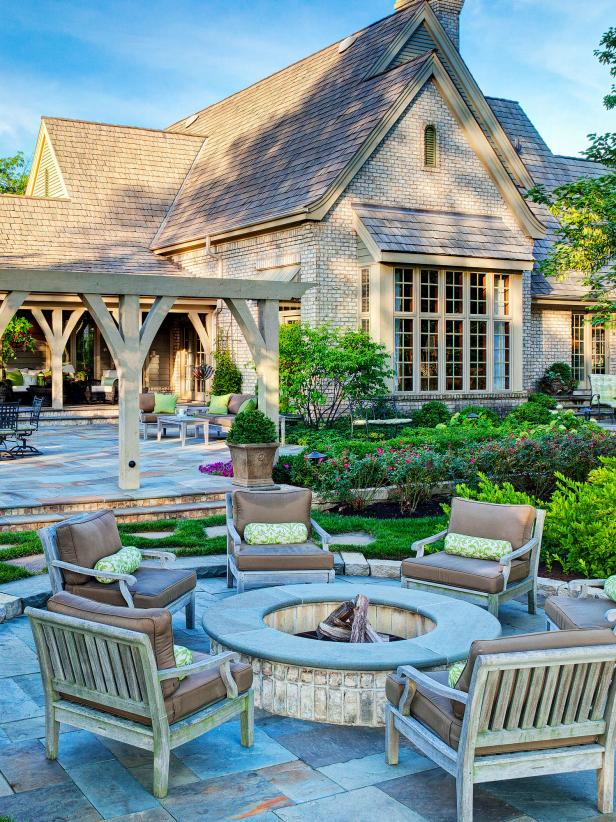 This fire pit is lined with a fire brick interior, veneered in house brick and finished with a four-piece thermal bluestone coping. A gas starter and custom log grate make this fire pit easy to enjoy. 
Tabletop Fire Pit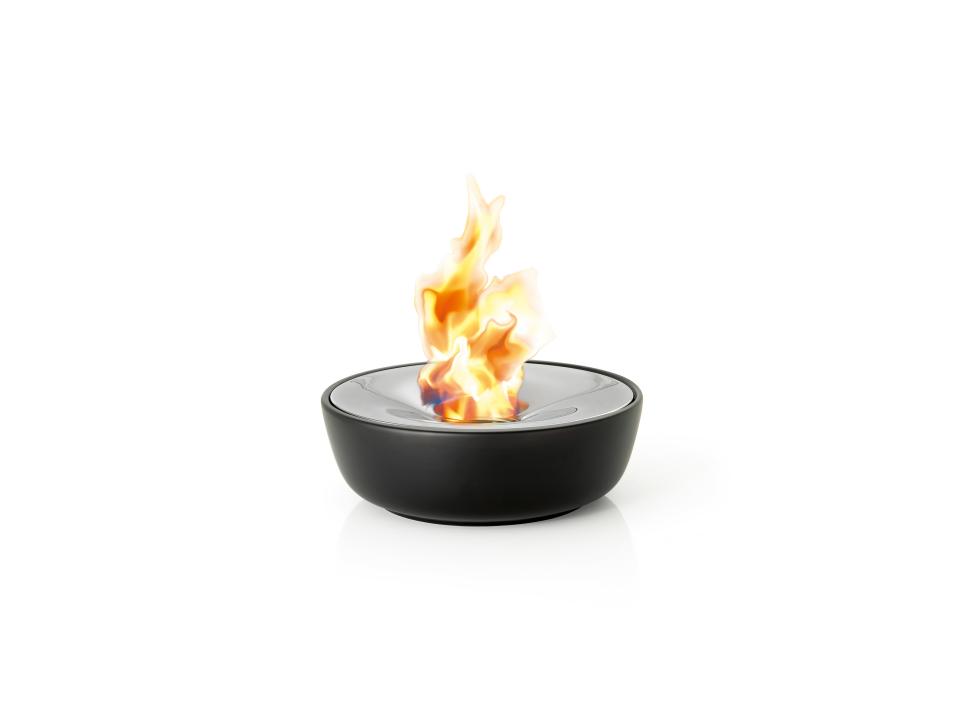 This sexy little fire pit proves that even city dwellers with a tiny fire escape can enjoy the cozy, communal pleasures of a fire pit. This nifty Fuoco Tabletop Fire Pit features a gel-powered fuel source for easy extinguishing.
Astrofire Fire Pit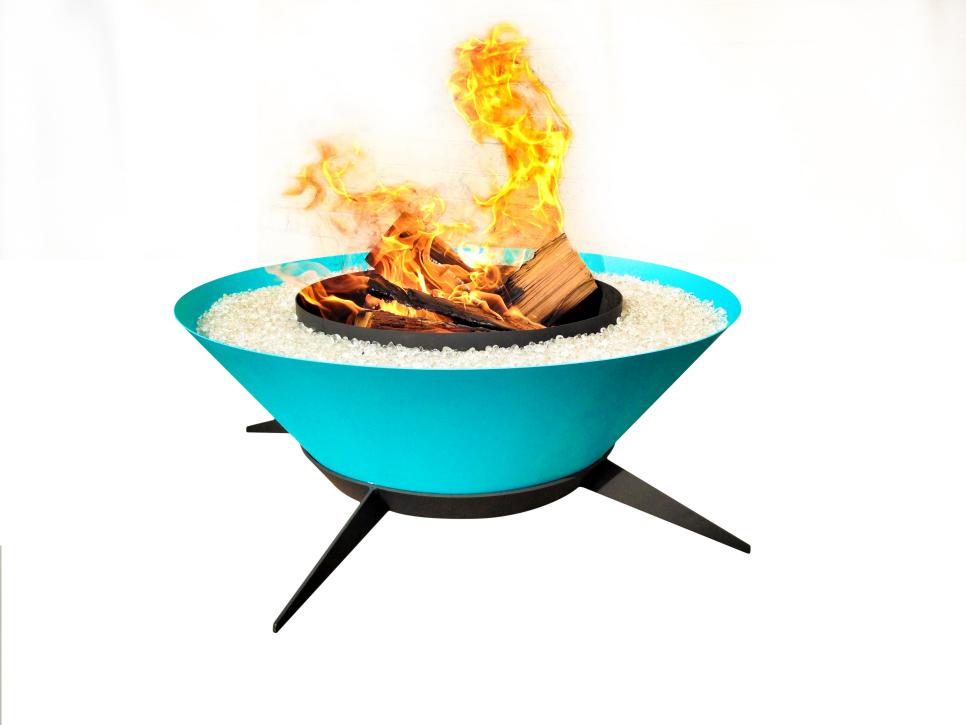 Add chic to your modern backyard or deck with this hip fire pit in juicy colors that keeps the outdoor fun going no matter the season.