20 Genius Ways to Repurpose Old Tires Into Something New And Exciting
Warnings!
The rubber in the car tires has cadmium, which is a toxic metal. You should not grow edible plants like carrots, lettuces, peanuts, and potatoes in a tire planter because these will absorb cadmium. Use the planters strictly for growing flowers and non-edible plants.
No matter what time of the year or season it is, for both kids and adults alike, we've come up with a combination of exciting, free or budget-friendly recycled tires ideas that we're sure you'll absolutely love!
From Minion tire adventures to outdoor recycled tire seesaws, we've got it all! So, read on to learn more and how you can get STARTED!
Garden
Landscaping
Kids Play
Outdoor Furniture
Art & Decorations
Garden
DIY Car Tire Planter
Here's one of the simplest uses for old tires – a DIY planter for your garden. This is a great way to add a splash of color to a bland backyard.
Cat and Goat wanted to make a raised flower bed using the upcycled material. So they made these easy tire planters, and you should try to make some too!
Bet you will never look at the distressed tires lying haplessly inside the garage the same again. Use a repurposed pallet board as the base and cover it with a garbage bin bag before filling it with soil for a mini backyard garden creation.
Simple Stacked Tire Planter
Container Garden share how they took four old tires and transformed them into a stacked tire planter. I love the look of the stacked tires because it adds such a pop of color.
Stack tires of different sizes to create a topsy-turvy tower, or use tires of the same size to create more of a pillar. At the top, plant a bushy fern or other plants that will add volume to the top or trail down the sides. Be sure to paint your tires to match your color pallet!
Stack the tires in a combination of two or three and go on a gardening spree, planting gorgeous ornamental plants, succulent herbs, and low-maintenance perennials, retaining the earthy charm through all the seasons.
Arranging tires and making DIY tire planters is also an option to reuse tires. Make sure you'll never grow edible plants in them if you live in a hot tropical climate because tires heat up quickly.
If you're living in a colder climate, then this will be good practice for you as tires insulate the plants and provide warmth to them.
Upcycled Garden Tire Planter
Lemon, Bean, and Things threw together a colossal tire planter that has lots of bright colors! Adding the flowers creates almost a whimsical feel. Check it out.
This is such a cool idea because you have so many options for versatility. Stack tires to make a sort of planter "wall" to showcase different plants. Make it colorful by using all kinds of paint and flowering plants that really pop. Don't stop at just paint, though, feel free to hot glue rhinestones, use glitter and see what kind of ideas pop up.
Choose bold colors and paint old tires before stacking them in an attractive shape or pattern. You can then plant a variety of flowers in the exposed centers of the tires, creating a tiered, colorful display piece that will look fantastic from any side or angle. If you create a taller piece, you can use it to visually separate two seating areas within your garden.
And Here's another version:
DIY Details: Lemon Bean and Things
Frog Tire Planter
At Two Women and a Hoe, they created the adorable and beautiful "Frieda La Frog" out of recycled tires. The result is a unique and fun planter that the whole family will love. Make your own.
This is too cute! I am so excited to feature Two Women And A Hoe and their repurposed tire frog. This DIY is a fun way to upcycle and create some fun garden art. This frog will stick around all year long too. Thanks for the wonderful tutorial and awesome pics; I can't wait to make my own. Learn how to make your own here… TWO WOMEN AND A HOE – RECYCLED TIRES IN THE GARDEN
Switch it up entirely by using tires for outdoor art instead of strictly planters. Using paint and the stacking method, recreate your favorite cartoon or seasonal characters just like this frog! This is a super fun idea for homes with children, since kids can easily help with the project and can help recreate their favorite cartoon characters instead of just watching them on TV all the time.
DIY Tire Planter
Felder Rushing shares a few different options on how to make your own tire planter. He also explains how to cut and shape tires safely with directions and photos. Check it out.
A true inspiration for terrace garden enthusiasts, the tire planter project, combines blobs of colors and succulent plants sans the muddy mess.
A true inspiration for terrace garden enthusiasts, the tire planter project, combines blobs of colors and succulent plants sans the muddy mess.
Create gorgeous blooming planters from tires by simply cutting around the top edges of the tire. Make flowers blooming open or create an interesting sunburst effect to add some style. You could even glue discarded tire pieces to your design to create a textured three-dimensional effect. Add some paint and you have a beautiful homemade tire planter that will look store bought.
Here's another version:
Tire Tea Cup Planters
Chances are you'd much rather put those old car tyres to good use, than confine them to the scrap heap for all eternity – why not transform them into something quite amazing for your garden? That's exactly what we're giving you the opportunity to do with these simple yet incredibly effects teacup tire planter ideas!
This Teacup Tire Planter is really an easy, fun and amazing recycling project. We will always use tires, and there is no safer way to recycle them than turning them into something new, useful and creative. What you need to do is to start your creativity power to put them in your different ways, paint other colors and make it even characterized. This is really an inspiration to up-cycle your old tires that probably clutter your garage, or have been dumped away.
DIY Details: Wonderful DIY
–Tire & Yarn Planters Out Of Recycled Tires
This is another excellent use of recycled tires, similar to the redesigned modern recycled tire chair design above, using similar twine, and simply modified legs. The DIY recycled tire potters are great to place throughout your garden to show off your love for the environment, and will also make a great conversational piece!
All you'll need for this simple, fun DIY project is a few wooden legs, brackets, durable twine – and patience! For all the details on what specific supplies or tools, you should use, check out the EMGN link below.
DIY Details: Addicted 2 DIY
–Tire Garden Planter
–DIY Recycled Tire Garden Planters
These DIY outdoor garden planters are the perfect addition for decorating your garden, the exterior of your home, yard, or even the local community center!
This is an awesome family project, is relatively straightforward to make, and is an excellent way to teach kids about the importance of environment and recycling.
For any environmentalists out there or those new to gardening, this is a must-try DIY project!
Check out the Architecture Art Design link below for more details.
IMAGE VIA WWW.ARCHITECTUREARTDESIGNS.COM
–Rustic Recycled Hanging Tire Planters
If you want to add style and personality to your garden or widen the variety of flowers and plants you currently have in your back yard, then this is a must-try DIY project that uses recycled tires, paints, and a couple of durable, industrial-strength chains.
You can hang them from your tree, and make as many as you want! With this DIY project, you can also use smaller tires, or even smaller planters – and top off your style by using a recycled chandelier to hang smaller plants from together!
Roeshel at DIY Showoff created two hanging tire planters that turned out beautiful. It is incredible how some paint and a few materials can come together to make something so cool. Try this simple project.
The rustic texture of an old tire can be covered with few strokes of metallic paint. Moreover, the enchanting planter makes an ideal space-saving plant-growing container when suspended outside the house, infusing a pop of color into your patio or front porch.
Get as artistic as you like with this interesting concept for tire planter art! Whether you transform your tire planters into hanging pieces or customize them to wrap around garden pillars, you can transform any outdoor area to suit your taste. Integrating bold and subdued colors can also create an interesting effect. Not only are tires versatile in gardening styles, but you can easily make tires into decorative pieces, as well.
Turn an old tire into a colorful hanging tire planter. And if you want to take your hanging tire planter to the next level, play with patterns! Go bold and use painter's tape to create a simple pattern on your tire. Peel back the tape after the paint dries, and voila! A beautifully patterned hanging tire planter.
If you want to make your garden more unique and enchanting then 'Hanging Tire Planters' are perfect. It's the best way to utilize vertical space and to give a great visible aspect to your garden.
DIY Details: DIY Showoff
The Tire Composting Bin
Tire composting bins are easy to assemble. Simply stack three to four tires of a similar size atop one another in a flat, sunny area. Once you've stacked the tires up, you're ready to compost! You may want to get an old tire rim or piece of plywood to serve as a cover.
Black tires absorb the sun's heat effectively, which aids in composition. Turning a tire compost bin is really easy, too; simply re-stack the tires a yard or so away from where they were originally standing, and shovel your waste materials back into the new stack.
DIY Details: Black Hills Garden
Raised Tire Garden
Instructables share a step-by-step guide on how you can make a raised flower garden with old tires. It looks wonderful! Look at their tutorial here.
Create a raised bed tire garden. Raised beds made of tires border the plants and help them to grow in order. If you're growing vegetables or herbs in these raised beds, make sure to use big tires and ensure they'll not heat much.
Old tires make the perfect planters because they're sturdy and deep enough for plants to take root. Utilizing tires to create your own garden is not only a smart idea, but it's eco-friendly. Reduce, reuse, recycle – and you're hitting all those with these fun planters! Whether it's an herb garden or organic veggies you're planning, tire planters are the way to go!
Reusing old tires to maintain a garden is one of the best ways to help the planet. Teach your kids about conservation and the beauty of growing your own, fresh vegetables all while teaching them about the importance of recycling, as well. There is no limit when it comes to using tires as planters for vegetables. Imagine picking juicy ripe tomatoes right off the vine in your own vegetable tire garden? Delicious!
Birds & Blooms always has some fantastic ideas, and they have done it again with their tire gardens. They have several different designs for you to look over. 
Parrot Tire Planter
You can never go wrong with making a planter that looks like a bird or animal! We Heart Parrots made a unique and fun parrot planter that everyone needs! Check it out.
Cut off the tire by leaving the inner ring, paint them into parrot or rooster and make them as hanging planter, bright and fun.
We all know that used tires either are drown in the landfill or get pilled in garages, reuse them is a smart way to keep household waste out of the landfill, lower landscaping burden and create personal touches and conversation pieces in your garden. the tires can be filled with potting soil and turn them into flowerbeds, or, with paint and a few simple cuts, you can create a planter shaped like a parrot or tropical bird.
Tire Rim Flower Pot
Goods Home Design took planting to a whole new level by not using the actual tire, but the rim! They added a mosaic tile to it, and it looks beautiful. How they did it.
Who would have thought that this lovely and colorful flower pot is actually an old rim? Even if you aren't a fan of repurposing materials that are lying around the home, rusting away, you will definitely like this DIY project. So, raise your sleeves and get to work.
Have an old tire rim you don't know what to do with? Instead of trying to sell it on Ebay, turn it into a planter! Pairing a rim planter with your tire planters can be a fun concept, too, but even as a standalone this interesting planter will draw plenty of attention. These may be a bit more difficult to paint, but with such a brilliant metallic color, you may just want to leave these as is. Learn More
This is a super pretty idea for using a tire rim as a planter. Using paint suitable for metallic objects, create a mosaic planter that will look like it's actually tiled. Use all kinds of colors and designs to create this beautiful artwork that would look great on a patio or covered area. Your guests will do a double take since this pot will look so unique. Learn More
Landscaping
Since tires essentially do not biodegrade easily and require friction and exposure to other environmental factors to even begin to wear it down- using tires in a more protected environment dictates a possible life of tens of thousands of years. This makes them an ideal choice for certain structural foundational supports, and if you have any large projects requiring a strong, long-lasting framework, you may want to consider tires as a possibility.
Tire Garden Stairs
Stop slipping down a steep hill to your garden oasis by installing these simple tire garden stairs. It's another one of those things you can do to repurpose old things.
A Garden Pond
If you have really been wanting a garden pond but those kits just seem a bit expensive, use those old tires to create a beautiful pond that will cost you very little. Aside from the tire (or multiple tires if you want to create a graduated pond) you will need garden foil, gravel or pebbles, sand and a few plants and other supplies that you may have already or you can pick up at your local gardening center. This is a really easy way to have that relaxing garden pond without spending a fortune and you can build it in a weekend.
DIY Instructions and Project Credit – Handimania
Another DIY Garden Pond
Since rubber is a sealant, old tires make excellent support and shape for ponds. They are easy to bury, stack, or tier to create small tranquil ponds or meandering bubbling brooks. The hollow of the tire can also serve as an excellent place to tuck the roots of your favorite water plants to keep them from growing out of control. Plus, they can be stacked to create fountains as well for even further interest.
Upcycled Tire Retaining Wall
Retaining walls, garden walls, or even housing structural walls can be created using old stacked tires. These are especially useful in areas where they can be covered and well protected from the elements to last as long as possible. Stucco is a popular finishing for tire walls, as it is easy to shape and mold over the curving, more flowing surface created by the tires.
This same idea can be utilized to create fencing or fun playground barriers. Plus, if designed right, you can use the top row as a planter, and create a living structure.
Storm Shelter From Old Tires
Play
Children's outside backyard play equipment has always included old tire swings, but there are so many more ways to repurpose old tires for playground usage. Rather than spend the money on prefabricated structures your children will only use for a handful of years, look to how you might incorporate used tires. It will not only help you save financially but also help create something that can be used again and again once your children grow out of it.
When I was little, my grandparents had a huge garden which connected straight to a forest. On one of the trees near the house, they had a tire swing, and I can honestly say that it was one of the things I looked forward to most when visiting their house. Aside from valuable family time of course.
Tire swings are a great addition to any garden, whether they're for kids as a fun thing to play on or for adults as a unique and calming seat. Because they are suspended, you don't even need too much space to make one, just some form of sturdy branch or beam that you can hang it from.
There are far more ways of customizing a simple tire swing than I ever thought, meaning that you can really make it your own, and make it perfect for your own garden and vibe.
Simple One Rope Tire Swing
This technique looks like the simplest way of hanging a tire swing that I have ever seen. There is no tricky screwing or puncturing involved, you simply need a bit of rope work and a sturdy branch.
If you're not too confident with your handyman skills, this simple one rope tire swing would be just perfect, and very risk-free. I love that they have decided to spray paint the tire in this DIY, and think it brings new life to it, transforming it from something old and used into something new and fun.
How to Paint a Tire Swing
It is more the pattern on this painted tire swing that caught my eye as opposed to the making of the swing itself, unsurprisingly.
Turning the process of making a tire swing into a fun, crafty experience for the whole family is something that is really appealing to me. Kids would enjoy planning out what they wanted to paint onto their new swing, or more so have fun not planning and throwing every color they can on it. Once they're finished, they will be proud to see their creation hung in the backyard, and showing it off to all their friends before you know it.
Horizontal Tire Swing
Although most tend to have the tire hanging vertically, there is a lot to be said for tire swings which use the tire horizontally. They are arguably safer, as kids can sit fully in them without the need to hold on tightly, and would be really great for younger kids.
This DIY requires a bit of elbow grease and work, but the result looks incredibly sturdy and is bound to last many years. The length of the chain can also be adjusted to fit wherever you wish to hang the swing. One of my favorite things to do as a kid on a tire swing was to wind it up and sit on it screaming with excitement as it spun out, and this swing looks like it would be perfect for that.
Lady Bug Tire Swing
You could get so creative when taking inspiration from this painted animal tire swing. The ladybird is really cute, and your kids would feel like they are flying through the air on the back of the insect.
There are so many different things you could try out, and because it is simply painted on you could even change it every now and again at a very low cost. As if your kid wasn't going to be happy enough when they see their new tire swing, imagine the looks on their faces when they see that it looks just like their favorite animal.
DIY Details: Janis Zettle
Double Level Tire Swing
This double level tire swing looks like something that your kid would see at the play-park and instantly run right towards. If you have more than one kid this would be an amazing way for them to be able to play with the swing together, making it more fun for them and avoiding arguments as it's a win-win.
It may look like an adventurous DIY, but in reality, it isn't too different to other tire swings other than the fact that you have to do everything twice. Your kids would definitely want to show this off to their friends, and you'll probably have their parents asking for tips on how to replicate it.
DIY Tire Ride-On Toys
Keep your little ones entertained for hours with a teeter totter or rocking horse made with an old tire. Of course, safety first with all things kid-related.
DIY Videos: BuildersFan on Youtube & Dave's woodworks
TEETER TOTTER
Teeter-totters may be hard pressed to come by in most playgrounds anymore, but you can make your own version by cutting a tire in half and attaching a board over the top of it. Be sure to choose strong, durable tires that are already rated as a heavyweight to ensure it won't compress when in use. Plus, you can shore up the inside with smaller boards to help keep its structural integrity, as well as to attach the board you sit upon.
Adventure Playground Tire Boat
Kids Crawl Tire Tunnel Made With Old Tires
Tire Dome Climber
If you already used up your old tires for number 14 then try your luck with a few yard sales. However, you do it, gather up a nice stack of old tires and create this awesome climbing dome. Slap some bright colors on for a pop of character and you've got yourself one heck of a fun toy for the kids.
DIY Old Tractor Tire Sandbox
Fill a giant tire with sand and you've got an instant sandbox.
What better way to thrill the kids this summer than with their very own sand box? You can make a great sandbox out of a tire and if you have a few tires on hand, make a couple of them and put them together for a really neat sand area. Tractor tires work best if you have them because they are a bit larger than car and truck tires. You just paint the tire and then add the sand. This is one of the easiest projects and something that will literally take less than a day to make.
You can create a series of little ones, or by getting your hands on larger tire tractor you can create a pretty big one as well. Tires can get warm in the hot summer sun, so be sure to paint them or a more reflective color, or better yet, bolt a few sanded pine boards along the edges to provide a comfortable pace for your children to sit while they play.
NOTE: The Original post is down so here is another post with a tutorial on how to do it – https://www.creativespotting.com/2013/05/diy-kids-tractor-tire-sandbox/
DIY Details: Creating Really Awesome Fun Things
DIY Old Tire Tic Tac Toe Board Game Table
DIY Tetherball Set
DIY Details: Simply Kierste
Tire Obstacle Course
Put your old tires to use and give the kids a great play area at the same time by building a tire obstacle course. You can do this with any number of tires so choose how big you want the course beforehand and you'll know how many tires you need. Paint the tires first and then make sure that you affix them to the deck, porch or wherever you are putting the course so that it's safe when little ones run through. You can make it so that they crawl through, climb or jump over the tires.
DIY Details: Frogs and Snails and Puppy Dog Tail
MonkeyTire Wall
More tires! Seriously, when I said start collecting old tires I wasn't kidding. There's tons of cool ideas like this that just about anyone can do. Stick some beams in the ground with some cement footings and you've already done the hard part.
Kids Climbing Tree
Here's another version, unfortunately I can't find the original source – but it looks pretty easy to recreate.
Old Tire Climbing Hill
If you have kids or grandkids, you know that outside play equipment can be very costly. Instead of investing a few hundred dollars in a jungle gym of sorts, why not turn those old tires into a great tire climber and kill two birds with one stone? Just paint the tires bright colors and stack them up however you want to create the climber. You will need to bolt them together to make them safe but it takes very little time and this is something that you can create for free if you already have tires and paint on hand.
DIY Instructions and Project Credit – Mysmallpotatoes
Tire Climbing Tower
Swing Set Tire Ladder
Image and Instructions: Exploring Domesticity
Outdoor Furniture
Half Tire Hammocks
SPILL PROOF TIRE DOG BOWL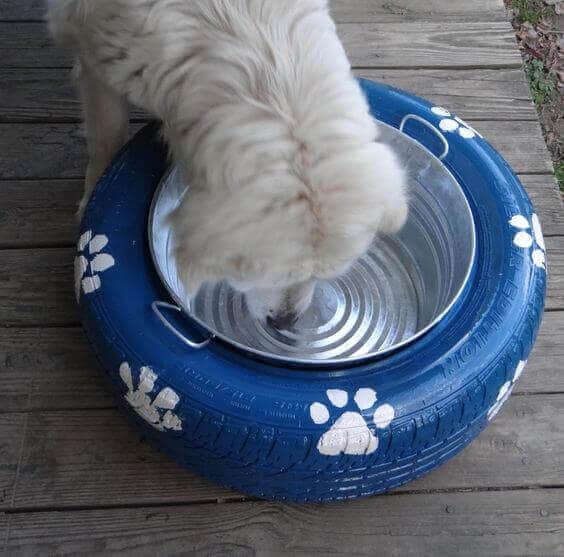 If you own a dog I'm sure you know the pain of knocked over water dishes. Make a spill-proof bowl for your furry friends with an old recycled tire.
Paint the tire any color you'd like then add fun patterns like puppy paw prints or colorful stripes. A galvanized or plastic bucket should fit snuggly right in the middle of the tire, and voila. You have an attractive, recycled tire spill proof dog bowl.
DIY Details: Rural Mom
A Great Table
With an old tire, some rope and a few pieces of wood for the legs, you can make a wonderful table that you could display indoors or out. You'll want a piece or two of plywood that you can cut in a round shape to fit the top and bottom (this is what the legs will attach to) and then some rope to cover it up. You could paint the rope beforehand if you wanted something more colorful or just use rope color to give it a great rustic look. You can make the legs out of plywood as well so there are very few supplies needed and this is a rather quick project, too.
DIY Instructions and Project Credit – Whiletheysnooze
DIY Tire Kids Seats
DIY Details: Griillo Designs
Party Seating
Tire Garden Stools
Low chair on wheels
Israel-based designer Eyal Edelman has created a practical low chair on wheels, to provide mobility to the users. Due to these tiny wheels, the chair can be easily relocated to any indoor or outdoor space of your home.
Old Tire Built-In Chairs
Complete Garden Furniture Set
DIY Tire Toy Shelves
DIY Details: Spaceships and Laserbeams
Upcycled Tire Storage for Kids Toys
Tires are perfect for creating storage for kids toys, sports gears, and garden tools. Recycled crafts can personalize your outdoor living spaces and improve their functionality. Plywood cover and bottom, three or four casters, and a touch of bright paint turn two tires into a practical and attractive storage container.
Bike Rack from Old Tires Cut in Half
Recycling used tires for bike storage, great ideas to reuse and recycle old car tires
Image Source: Recycle Art
Art & Decoration
Recycling tires for garden decorations
You may have only a slight vision of how to reuse and recycle old tires. Creative designs and recycled crafts can bring surprises. Start your project and see how it goes. You can always add bright patterns to your creations and turn tire pieces into planters.
If you are ready to make a funky artwork for your garden or backyard decorating, recycling tires for colorful and playful accents without cutting the sturdy material might be a fantastic DIY project for you. Get inspired by insects, animals, fish and birds, and come up with vibrant painting ideas for decorating used tires. Handmade decorations made of old tires will lift your spirit and add character to your outdoor living spaces.
Large sculptures created with used car tires are a fantastic way to add an artistic touch to outdoor living spaces, to reuse and recycle old tires for decorating streets and public places. A few stacked on top of each other tires make a convenient storage space for large garden tools, hockey sticks or skis. Stacked on top of each other old tires can be used as a compost bin also.
Also old car tires are the excellent material for creating unique artworks that can decorate your exterior walls, fences, tree stumps, and living trees. Unusual and colorful accents made with painted car tires can add a personal touch to garden designs and beautify landscaping ideas.
Upcycled Tires as Wall Outdoor Art
Giant Garden Tire Snails
Garden Giraffe Sculpture From Old Tire
Tire Tree Sculpture
Tire Garden Toadstools
Image and Instructions: Grillo-Designs
---